Havanese Pork Loin (with White Rice)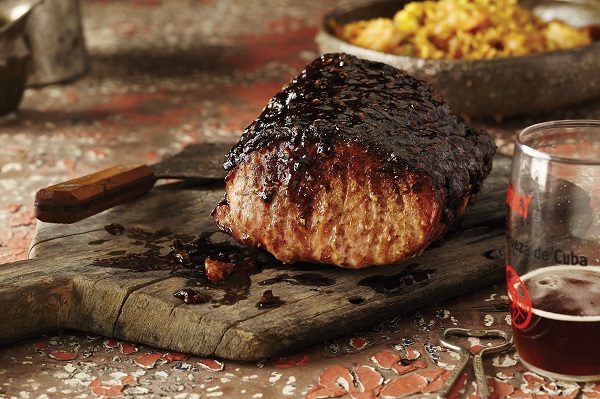 Cuba is a vibrant, bold and colorful country that is full of life. Fascinated by its people and their endlessly delicious home-cooked cuisine, friends Dan Goldberg and Andrea Kuhn have been visiting this hypnotic country for the past five years. Dan, an award-winning photographer and Andrea, an acclaimed prop stylist and art director, along with renowned food writer Jody Eddy, bring the best of Cuban food to home kitchens. Trying any of these delicious dishes will make any meal a memorable one, especially if you make this Havanese Pork Loin.
From the Author: "This recipe sounds complicated and luxurious but it's actually a breeze to prepare. It's one to keep in mind when you want to impress your guests without having to fret over a complicated recipe. Consider it the grown-up version of pork and beans, Cuban style, with a little Chinese influence thrown in for good measure. The secret is to keep spooning the marinade over the pork as it cooks, allowing it to absorb until it finally transforms into a sticky glaze–a "can't get enough of it" kind of finish."
Ingredients
For Pork Loin:
1/4 cup cooked black beans
1/4 cup hoisin sauce
2 tablespoons soy sauce
2 teaspoons dry cooking sherry
3 tablespoons sugar
3 cloves garlic, minced
1 teaspoon Chinese Five Spice powder
1 (2- to 4-pound boneless pork loin roast
For White Rice:
2 cups long-grain white rice
3-1/2 cups water
1-1/2 teaspoons salt
3 tablespoons canola or vegetable oil
Instructions
For Pork - Preheat the oven to 425 degrees F. Place the black beans in a small bowl and mash them with a fork. Stir in the hoisin sauce, soy sauce, sherry, sugar, garlic, and five-spice powder. Rub about 1/4 cup of the marinade over the pork and place the pork on a rack over a roasting pan. Pour 1/2 cup of water into the pan.
Roast for 15 minutes, then lower the oven temperature to 350 degrees F and continue roasting until the internal temperature reaches 155 degrees F, spooning additional marinade over the pork every 15 minutes or so.
Remove the pork from the oven. Let it rest for 15 minutes before slicing and serving with white rice.
For Rice - Place the rice in a fine-mesh strainer and rinse thoroughly with cold water.
Transfer the rice to a large saucepan and add the water and salt, stirring to dissolve. Stir in the oil and bring to a boil. Let the rice boil for 4 minutes, then lower the heat to a bare simmer, cover the pot, and simmer until the water has been absorbed, 10 - 12 minutes.
Remove the pot from the heat and let stand, covered, for 10 minutes. Fluff with a fork before serving.
© 2023 World Spice Merchants https://www.worldspice.com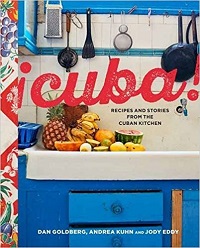 Reprinted with permission from Cuba!, by Dan Goldberg, Andrea Kuhn, and Jody Eddy, 2016. Published by Ten Speed Press, an imprint of Penguin Random House LLC.
Photography copyright 2016 by Dan Goldberg
Cuba! Recipes and Stories from the Cuban Kitchen is the July 2017 selection for the World Spice Cookbook Club. Cuba! Recipes and Stories from the Cuban Kitchen is currently available for purchase online at amazon.com.