Spicy Smoked Paprika Romesco Over Grilled Trout
My first taste of romesco was not, sadly, in Catalonia. I first encountered this crimson sauce in Walla Walla, Washington at a going away party for a dear foodie friend. I prepped ribs, halibut, and vegetables while my compatriot raced around the kitchen preparing "the sauce". He toasted almonds, blistered heirloom tomatoes, roasted peppers and garlic, and (after several stops in the Cuisinart) it came out like ruby velvet. We served it with the halibut, where the rich sauce found its perfect match in the clean taste of the firm white fish. That meal was my inspiration for this recipe.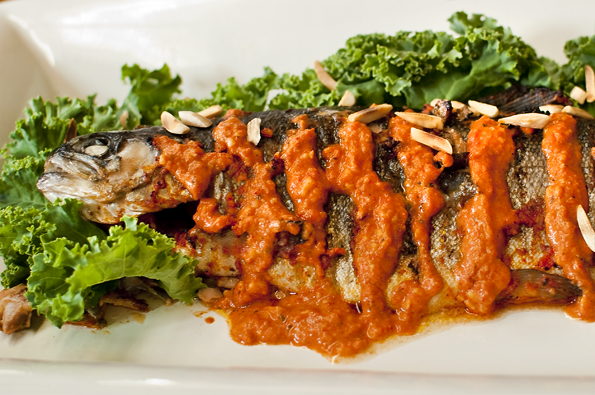 I grew up in northeast Wisconsin, deep in the Northwoods, on the banks of the Wolf River. The rushing water was my lullaby as an infant, my playground as a child, and when I found my love for food the river continued to provide. Smallmouth bass hid out in the deep holes at the bottoms of rapids. I pulled gallons of crayfish out of the water with a pair of diving goggles and my bare hands. My favorite, though, was the trout. It's delicious, simple to prepare, and environmentally sustainable.
You can pick up Idaho-farmed rainbow trout at many grocery stores for $5-$6/lb and they only take a few minutes to prepare. We grilled ours and served it with our very own romesco. We bumped up the sauce's heat by adding some Pimenton Picante, spicy Spanish smoked paprika, while reducing the prep time by using jarred peppers and canned tomatoes. You wind up with a dish that's impressive enough for date night and simple enough for any week night.
Ingredients
6 oz. roasted Marcona almonds
4 cloves fresh garlic
14.5 oz. can fire-roasted tomatoes
12 oz. jar roasted red peppers
3 tablespoons red wine vinegar (or sherry vinegar)
1-1/2 tablespoons pimenton picante
7 Tbl. extra virgin olive oil
1/4 teaspoon lemon crystal
Maldon smoked flake sea salt, to taste
Instructions
Put almonds in a food processor and process for about 2 minutes.
Add tomatoes and roasted peppers and process for another 2 minutes.
Then add vinegar, salt, pimenton, olive oil, and lemon, processing until smooth.
Taste and adjust salt and vinegar if needed.
Serve immediately or refrigerate in a covered container.
© 2023 World Spice Merchants https://www.worldspice.com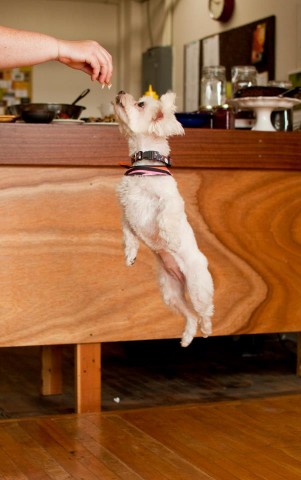 It even gets Delilah's paw of approval!