Pickle Jar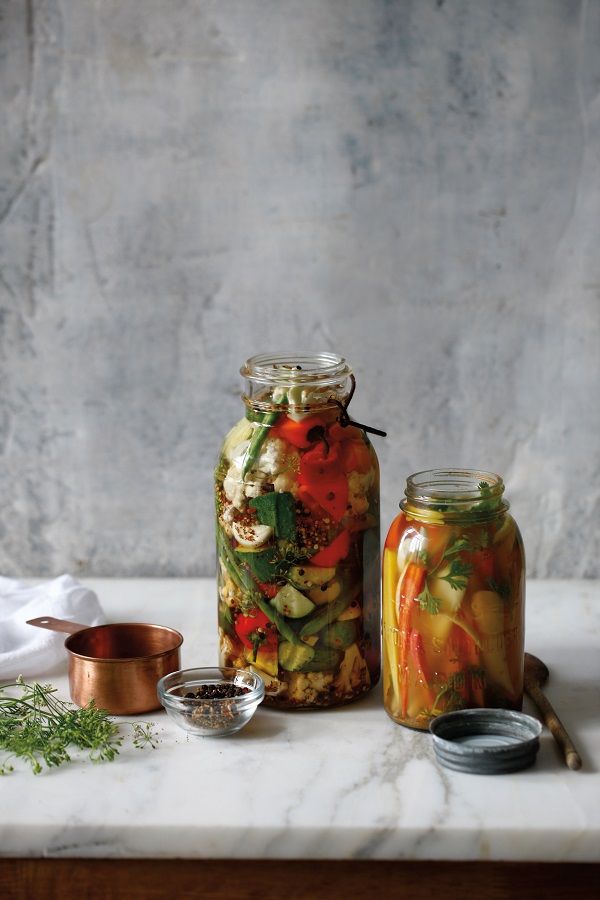 It's easy to fall in love with a delicious recipe, and doubly so when that recipe is versatile and easy to make. Such is the case with this recipe for a mixed pickle jar, which can easily accommodate whatever vegetables you happen to have on hand. This versatility makes it one of our favorite picks from the World Spice Cookbook Club's September 2016 Selection, Rose Water & Orange Blossoms, by Maureen Abood.
From the Author: "Mixing vegetables in one jar is a great way to make use of a variety of vegetables you may have on hand, and they look just great in the jar. The tops of the peppers sliced off and placed strategically to face out from the jar look like little flowers—so pretty that you hardly want to disrupt the jar to pull out the pickles to eat!"
Ingredients
2 cups / 475 mL vinegar (apple cider, distilled white, or white wine)
1 cup / 240 mL water
1 cup / 200 g granulated sugar
2 tablespoons kosher salt
1 tablespoon each of black peppercorns, mustard seeds, celery seeds, and coriander seeds
1 teaspoon red pepper flakes (optional)
2 pounds / 900 g vegetables such as carrots, Persian or pickling cucumbers, small multicolored peppers, cauliflower, and green beans
4 garlic cloves, peeled
Few sprigs fresh dill
Instructions
In a small saucepan, make a brine by bringing the vinegar, water, sugar, salt, black peppercorns, mustard seeds, celery seeds, coriander seeds, and red pepper flakes (if using) to a boil. Reduce the heat and simmer for 10 minutes, and then remove the pan from the heat and set aside.
Cut the carrots, cucumbers, peppers, and cauliflower into 1-inch / 2.5 cm chunks, slicing the carrots and cucumbers on an angle. Save the tops of the peppers; they look lovely facing out here and there in the jar. Trim the green beans and leave them whole.
Place the cucumbers in a colander in the sink with 2 cups of ice cubes for 30 minutes; this enhances their crunch. Pack 2 pint jars or 1 quart / 1 L jar tightly with the vegetables, garlic cloves, and dill. Ladle the brine into the jars to cover the vegetables, with 1?2- inch / 1.5 cm headspace.
Cover the jars with their lids and refrigerate. The pickles are ready to eat as soon as the next day, but gain flavor over time. They'll keep in the refrigerator for a couple of weeks.
© 2023 World Spice Merchants https://www.worldspice.com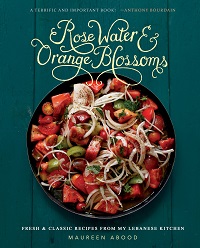 Rose Water & Orange Blossoms is the September 2016 selection for the World Spice Cookbook Club. Rose Water & Orange Blossom is currently available for purchase at our retail store and online.
Reprinted with permission from Rose Water & Orange Blossoms © 2015 by Maureen Abood, Running Press, a member of the Perseus Books Group. All Rights Reserved.