Quesadillas with Brussels Sprouts, Cascabel Chile Oil and Salsa Macha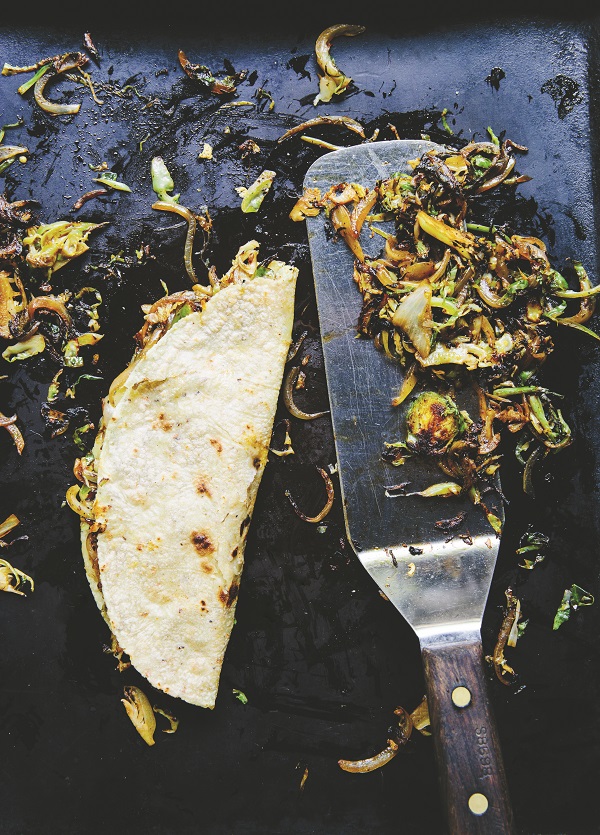 Our May Cookbook Club selection is Nopalito: A Mexican Kitchen, and we can hardly wait! Gonzalo Guzman, head chef as the San Francisco restaurant Nopalito, takes simple ingredients, such as vegetables, chiles and masa, and transforms them into delicious and flavor-filled dishes that showcase the flavors, roots and spirit of regional Mexican cooking. This cookbook also includes many of the fundamental techniques of Mexican cuisine, as well as insights into its food and culture. These Quesadillas con Repollo de Bruselas, along with the Cascabel Chile Oil and Salsa Macha are just a hint of the incredible recipes to be found in this wonderful cookbook.
From the author: "Next to cheese, vegetables are the most popular filling in authentic Mexican quesadillas. Brussels sprouts, when slowly roasted and caramelized, develop a sweet earthiness that goes well with salty cheese. We shred and saute the sprouts with homemade chile oil, so the leaves absorb the spice and flavor of the peppers. Peanuts are often added to make salsa for the regional quesadillas of Veracruz. Here I've substituted sunflower seeds, which have a more subtle nutty flavor that goes great with the Brussels sprouts. You can make the chile oil days or even weeks before you get started on the rest of the quesadilla. Use the extra oil with anything — drizzled on roasted vegetables, stirred into soups, or with fried eggs."
Ingredients
Cascabel Chile Oil
6 dried cascabel chiles, stemmed and seeded
1 dried guajillo chile, stemmed and seeded
1-1/2 cups rice bran oil or canola oil
1 small clove garlic
Salsa Macha
1/4 cup raw unsalted sunflower seeds
12 medium dried chiles de arbol, stemmed and seeded (or Japones)
1 dried ancho chile, stemmed and seeded
2 tablespoons white vinegar
2 medium cloves garlic
1-1/2 teaspoons dried oregano
1/4 cup olive oil
Salt
Quesadillas
1/4 cup rice bran oil or canola oil, plus more as needed
2 cups thinly sliced white onions
4 cups cored, thinly sliced Brussels sprouts (about 1 pound)
4 homemade soft corn tortillas or 8 store-bought soft corn tortillas
1-1/2 cups (12 ounces) shredded Oaxacan cheese or Jack cheese
For serving:
Crumbled queso fresco
Fresh cilantro leaves
Salsa Macha
Instructions
For Cascabel Chile Oil - To make the chile oil, preheat the oven to 350 degrees F. Place the cascabel and guajillo chiles on a baking sheet and roast until the guajillos turn dark red, about 5 minutes; remove, but do not turn off the oven.
Meanwhile, bring a small pot of water to a boil. Transfer the chiles to a medium heatproof bowl and cover with boiling water; let sit until the chiles are soft, about 20 minutes.
Drain the chiles and place them in a blender along with the 1-1/2 cups oil and the garlic;blend until the oil becomes clear and red. Once it is fully cooled, the cascabel oil can be stored in an airtight container until ready to use.
For Salsa Macha - Preheat the oven to 350 degrees F. Add the sunflower seeds and chiles to a small baking sheet. Roast for 2 minutes, then remove the chiles (leave the sunflower seeds on the pan); continue to roast the seeds until lightly toasted, about 5 minutes more.
Transfer the chiles to a medium heatproof bowl and add boiling water to cover; let soak until softened, about 20 minutes. Transfer the chiles (reserve the soaking water) to a blender; puree until a thick paste forms, adding a little of the soaking water only as needed to help blend. Add the toasted sunflower seeds, vinegar, garlic, and oregano; with the motor running, slowly drizzle in the oil until the salsa is emulsified but still lightly chunky. Taste and adjust the seasoning as necessary.
For Quesadillas - To make the filling, in a large skillet, heat the 1/4 cup oil over high heat. Add the onions and lower the heat to medium-high; cook, stirring occasionally, until softened and lightly browned in places, 5 to 6 minutes. Add the Brussels sprouts and season with salt; let cook, stirring occasionally, until the size of the leaves is reduced by half and their edges are beginning to brown, 5 to 7 minutes. Drizzle with 2 to 4 tablespoons of the chile oil to taste, and season with more salt as needed.
Preheat a large skillet or griddle to medium-high heat. Add all of the homemade or half of the store-bought tortillas, working in batches as needed to fit. Sprinkle the shredded cheese over one side of the homemade tortillas or across the full diameter of the store-bought ones. Quickly divide the Brussels sprouts mixture over the top (about 1/3 cup per quesadilla). Fold the homemade tortillas in half to cover; top store-bought tortillas with another whole tortilla to cover. Cook, flipping the quesadilla 1 to 2 times with a spatula, until the cheese is fully melted, 5 to 7 minutes total. Repeat with the remaining quesadillas as needed.
Transfer the quesadillas to four plates and garnish with the queso fresco and cilantro. Serve with the Salsa Macha.
© 2023 World Spice Merchants https://www.worldspice.com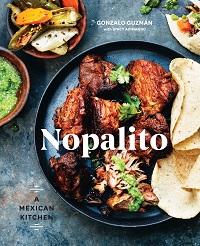 Reprinted with permission from Nopalito: A Mexican Kitchen copyright 2017 by Gonzalo Guzman with Stacy Adimando. Published by Ten Speed Press, an imprint of Penguin Random House LLC. Photographs copyright 2017 by Eva Kolenko
Nopalito: A Mexican Kitchen is the May 2018 selection for the World Spice Cookbook Club. Nopalito: A Mexican Kitchen is currently available for purchase at our retail store and online.