Aleppo Pepper Muhammara
This eastern Mediterranean dish is the perfect example of that regions ability to take simple ingredients like nuts, peppers and olive oil… and make something magical by adding a spice such as Aleppo Pepper. The sweet and sharp chile from the Aleppo region of Syria has a moderate heat and fruity flavor that brings a taste of the sunny Mediterranean to every bite. An elegant alternative to hummus, Muhammara will be the easy holiday hors d'oeuvre that your guests adore.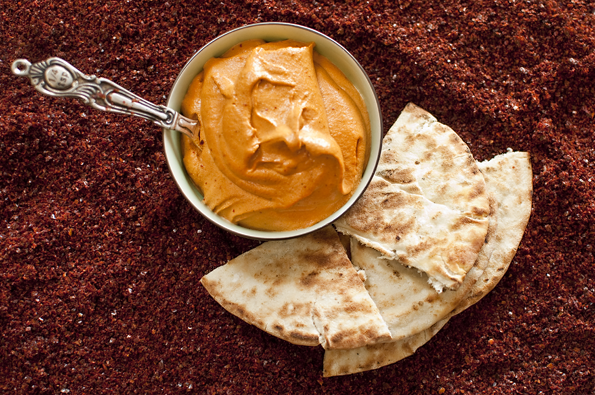 Ingredients
2 (12 oz) jars of roasted red peppers
8 oz (1½ cups) of roasted walnuts
3 tablespoons lemon juice
¼ cup olive oil
3 cloves of garlic, smashed
2 teaspoons Italian sea salt
1 tablespoons Aleppo pepper
3-1/2 tablespoons pomegranate molasses
1 toasted pita, broken into small pieces
Instructions
Put the toasted nuts in a food processor or blender, and pulse until they are broken down into small pieces.
Add the rest of the ingredients and puree until smooth. Taste for seasoning - you might want to add more salt, lemon juice or pomegranate molasses.
You can then transfer to a serving bowl or put in a container for the fridge. It will keep about a week.
© 2023 World Spice Merchants https://www.worldspice.com