Olive Oil and Juniper Brownies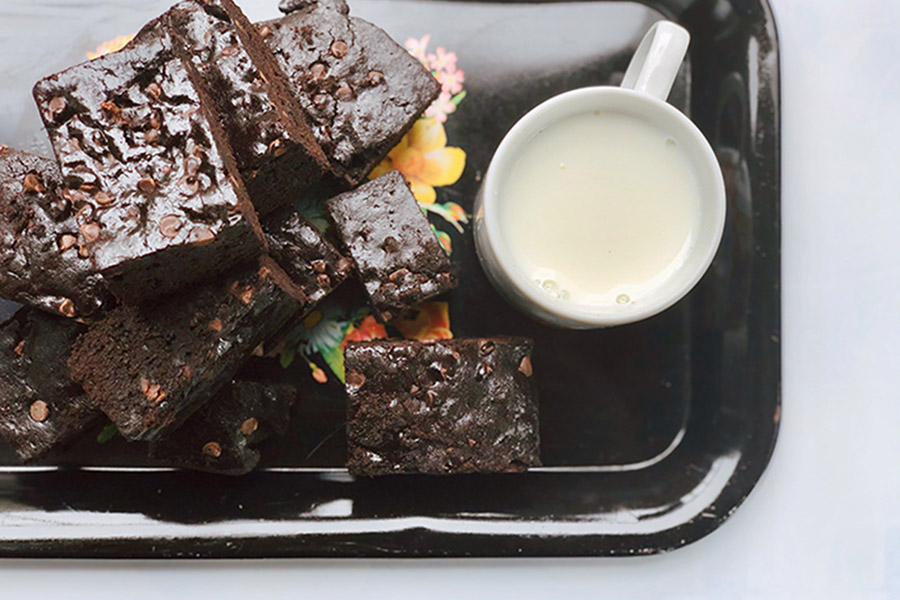 Juniper is a lovely spice, and capable of so much more than it is often given credit for. These aromatic berries are layered with flavor: piney at first, but then giving way to a sweet citrus taste that lingers. It deserves to love in something besides gin. With this in mind, we set out to make a desert that placed this underappreciated spice in center stage.
Dark chocolate is a perfect vehicle to showcase juniper's unique flavor profile, and so we decided to feature them in rich, moist brownies. Through trial and error, however, we learned juniper gets much stronger as it cooks. Another addition was needed to balance the spice. We found our answer in olive oil. It's rich and earthy, and will heighten the bitterness of the dark chocolate. The resulting brownies are fabulously out of the ordinary, yet still deeply satisfying.
Instructions
Preheat the oven to 350 degrees. Line a 8x8 inch baking pan with parchment paper and evenly grease with olive oil.
In a large bowl, combine the olive oil and brown sugar with a whisk.
Add egg, yolks, juniper and salt, mixing until blended. Add the hot coffee and mix well.
Sift cocoa powder, flour and baking powder into the wet ingredients. Gently mix, being careful not to over mix or the batter will turn out more cakey, and less fudgy.
Pour the batter into the pan and evenly sprinkle the chocolate chips on top.
Bake for 20 minutes, or until a toothpick comes out clean from the center of the pan.
Cool completely before cutting.
© 2023 World Spice Merchants https://www.worldspice.com