Dukkah Scones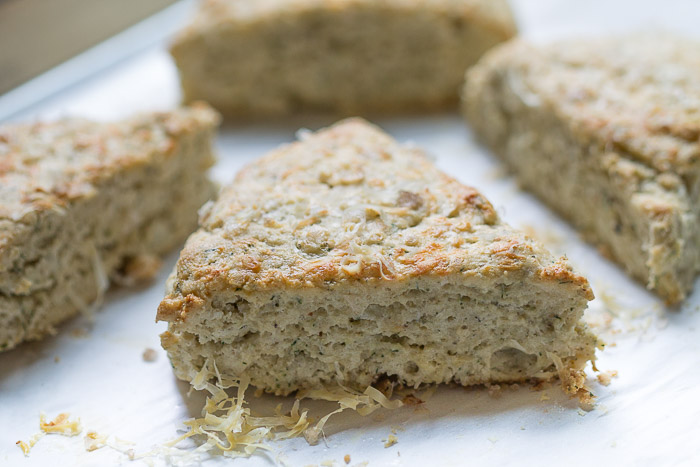 I love reinventing the scone with new flavors, especially savory ones. Dukkah is an exotic spice blend, traditionally used as a dip for bread with olive oil. In these scones, it adds just a hint of hazelnut and a bold boost of cumin and coriander, plus some herbal accents. Fresh dill and shaved parmesan round out the flavor profile, with a touch of flaky smoked salt on top. These hearty dukkah scones are wonderful for brunch, snacking or in a weekday lunch box.
Ingredients
For the scones
2 cups all-purpose or gluten-free flour
1 tablespoon granulated sugar
1 tablespoon baking powder
1 tablespoon Dukkah
1/4 teaspoon kosher salt
2 tablespoons fresh dill weed, chopped
6 tablespoons unsalted butter, cubed
3/4 cup half and half
2 large egg yolks
For the glaze
1 large egg
1 tablespoon milk
For the topping
Instructions
Preheat the oven to 400 degrees and position a rack in the lower third. Line a baking sheet with parchment and set aside.
In the bowl of a Cuisinart fitted with the blade attachment, combine the flour, sugar, baking powder, Dukkah, kosher salt and dill weed. Pulse to combine.
Add the butter and pulse until the butter pieces are pea sized. Do not overmix!
In a small bowl, combine the egg yolks and half and half, beat lightly and add to the flour mixture. Pulse until just combined and a loose dough is formed.
Transfer the dough to the center of the prepared baking sheet and, handling it as minimally as possible, form it into a disc about 7 inches across and 1 inch tall. resist the temptation to make it bigger!
Carefully cut the disc into wedges, just like a pie, and separate them.
In a small bowl, lightly beat the milk and egg for the glaze and brush it on top of the scones. Then sprinkle on the parmesan and flake salt.
Bake for 18-22 minutes until the scones are golden brown on top and a toothpick inserted in the center comes out clean.
Notes
This is an adaptation of my all time favorite go-to Classic Cream Scone recipe from Fine Cooking. It never fails. 🙂

© 2023 World Spice Merchants https://www.worldspice.com