Spring Spaghetti with Dukkah Creme Fraiche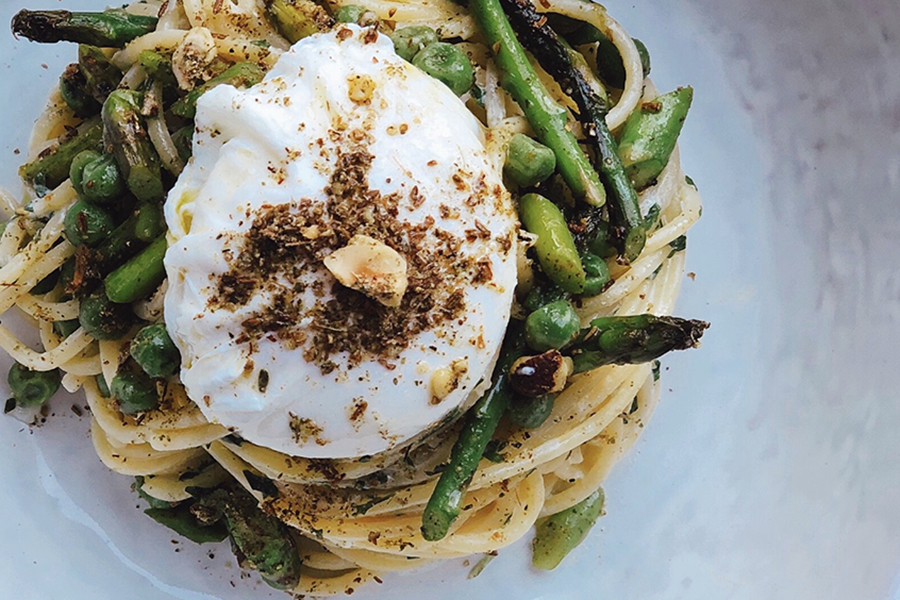 Plan ahead to create this spectacular Spring Spaghetti, because it is worth the wait! The creme fraiche takes a day and a half to culture, so patience is required, but whether you make it for yourself, make it for Mother's Day or just make it for fun, once you do, it will become a decadent staple. Dukkah is an Egyptian spice blend with marjoram and thyme mixed with lightly toasted cumin and coriander. The spices are combined with chopped hazelnuts. The complex flavors and texture infuse the creme fraiche and perfectly complement the spaghetti and spring vegetables. Once you have the creme fraiche, this pasta is fast and easy to make and full of seasonal flavor!
Ingredients
For the Creme Fraiche
1 cup heavy cream
2 tablespoons buttermilk with cultures
1 tablespoon Dukkah
For the Spaghetti
½ pound spaghetti, cooked al dente
2 tablespoons olive oil
1 tablespoon minced garlic
1 tablespoon Garlic and Cumin Preserved Lemon Paste
12 asparagus spears cut at a bias
½ cup frozen peas
1 cup Dukkah creme fraiche
2 soft poached eggs
2 teaspoons Dukkah hazelnut
2 tablespoons chopped parsley
Instructions
For the Creme Fraiche
Add heavy cream and buttermilk to a wide mouth pint jar. Set the lid on slightly ajar to allow some air in. Leave the jar out at room temperature overnight, 8-12 hours.
Tighten the lid and refrigerate 24 hours.
Stir in the Dukkah. The creme fraiche can be made ahead and will keep in the refrigerator for 2 weeks.
For the Spring Spaghetti
In a large saute pan over medium heat, combine the olive oil, garlic and lemon paste. Cook until fragrant and the garlic is softened, 2-3 minutes.
Add the asparagus and peas, and continue cooking until the asparagus is tender and bright green, 2-3 minutes more.
Add the cooked spaghetti and stir to coat with the sauce and vegetables.
Remove from heat and add the creme fraiche and parsley. Stir until combined.
Plate the spaghetti and garnish each dish with a soft poached egg and a final sprinkle of Dukkah!
© 2023 World Spice Merchants https://www.worldspice.com