Chuck's Gumbo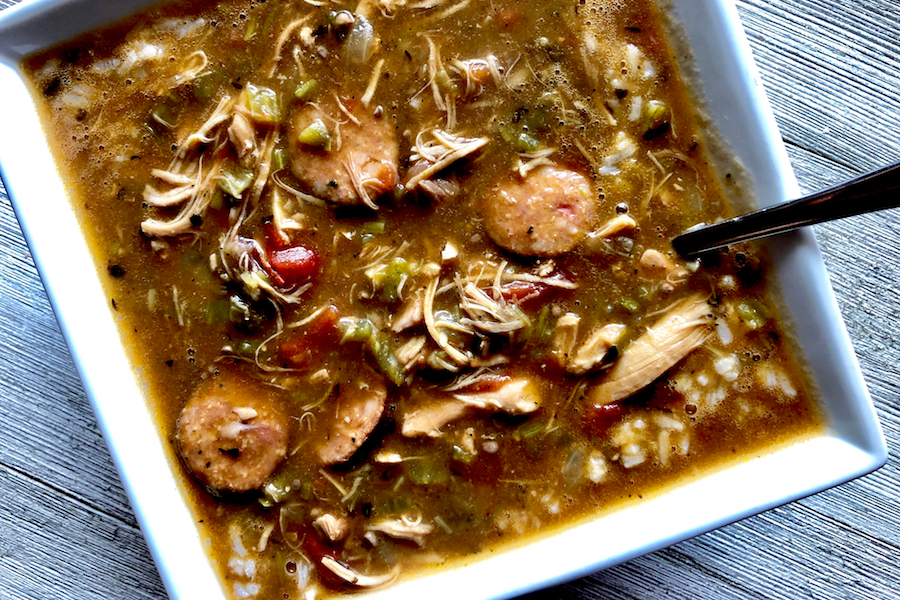 Down on Western Avenue, around the corner from our brick & mortar storefront, folks still talk in hushed tones about a little place called Sesto's Cafe, and the legendary gumbo of Chuck Smith. Chicken and sausage are served up alongside the classic trinity of celery, onion, and bell pepper, with a touch of Herbes de Provence, for mouthwatering and memorable flavor.
Sesto's is gone now, but it's legacy lives on in Chuck's famous recipe, which he generously shared with us. We've made a few changes, to keep his secrets safe, but this bayou classic is still worthy of every bit of it's formidable reputation.
Ingredients
For the Roux:
1/2 cup flour
1/2 cup vegetable oil or butter
For the Gumbo:
Instructions
A large, heavy pot is a must - the heavier the better. Patience is a must - the more the better.
Mix flour and oil until thoroughly blended before heating. Turn heat on medium-low and immediately begin stirring. Allow roux to brown

slowly

, stirring constantly.
When roux is dark brown, add chopped vegetables. Increase heat to medium and stir until onions are translucent. Add seasonings, stirring to blend. Add sausage and chicken, stirring until evenly browned.

Slowly

add heated chicken stock, stirring constantly. Continue stirring until gumbo comes to a simmer. Simmer 1 hour, stirring often and reducing heat if necessary to prevent sticking. Add salt to taste.
You can adjust the final thickness of the gumbo with file powder, or pass it at the table as a traditional accompaniment.
© 2023 World Spice Merchants https://www.worldspice.com