Creole and Sorghum Roasted Brussel Sprouts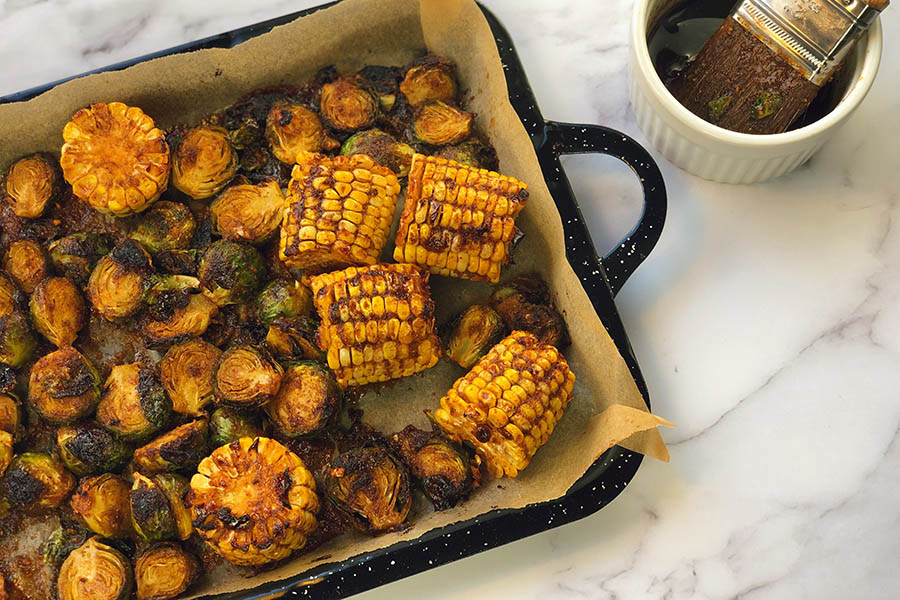 If you've never used sorghum before, now is your chance, and it is worth a trip to the market. Sorghum is a syrup made from a cereal grain and it tastes as if honey and molasses got together one night and did a little hanky panky. The sweet depth of flavor pairs beautifully with the heat of our Creole Spice on blistered corn and brussels sprouts. Add this to your menu for a quick and easy side dish that comes together quickly with minimal ingredients and maximum flavor.
Ingredients
1/2 lb Brussels sprouts, cut in half
2 large ears of corn cut in thirds
1 1/2 tablespoons Creole Spice
1 teaspoon kosher salt
3 tablespoons melted butter or bacon fat
3 tablespoons sorghum syrup
1 teaspoon apple cider vinegar
Instructions
Preheat oven on broil and arrange the rack in the lower third of the oven.
In a large bowl, combine the salt, Creole Spice, melted butter, sorghum and apple cider vinegar. Mix until smooth and saucy.
Set 1/3 of the sauce aside for basting the vegetables once they're out of the oven.
Add the cut vegetables to the bowl and toss them until evenly coated.
Cover a sheet pan with parchment and evenly distribute the vegetables into one even layer.
Roast for 12-15 minutes until the vegetables are blistered and tender. Keep a close eye on this dish while cooking and rotate or stir half way through cooking to get an even roast.
Remove from the oven and brush on the remaining sauce. Serve immediately.
© 2021 World Spice Merchants https://www.worldspice.com