Creole Deviled Eggs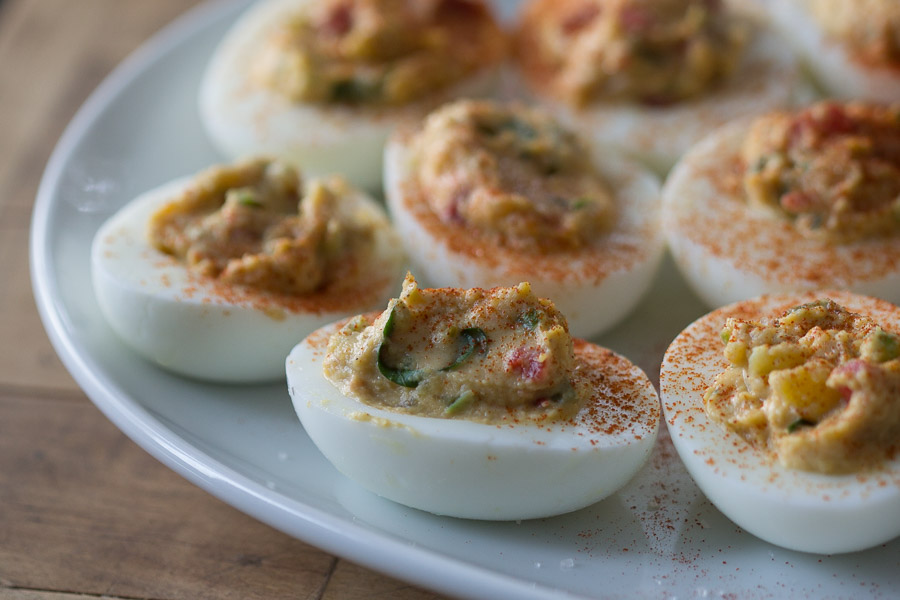 Deviled eggs are always a crowd pleaser, even more so when you make them with a twist. Enter our Creole Deviled Eggs. This version is anything but ordinary, packed with flavor from Creole classics and a dusting of smoked paprika on top.
Ingredients
3 tablespoons green bell pepper, minced
2 teaspoons avocado oil, divided
1/4 teaspoon garlic granules
12 eggs, hard boiled, peeled and halved
1/3 cup Greek yogurt
1 tablespoon Dijon mustard
1/2 teaspoon Worcestershire sauce
1 tablespoon pimentos, minced
2 teaspoons chopped fresh parsley
1 teaspoon Creole Spice
1/2 teaspoon Herbes de Provence
Instructions
In a small skillet over medium heat, sauté the bell pepper and garlic granules in 1 teaspoon of oil. Set aside to cool.
Separate the egg yolks and whites. Arrange the whites on a clean plate and set aside in the refrigerator.
In a medium bowl, combine the egg yolks, Greek yogurt, Dijon mustard, Worcestershire sauce and the remaining teaspoon of oil. Mix well until creamy.
Stir in the green bell peppers, pimentos, parsley, Creole Spice and Herbes de Provence
Spoon a dollop of filling into each half egg white and sprinkle the tops with a light dusting of smoked paprika and fleur de sel.
Serve immediately.
Notes
Be sure to go easy on the smoked paprika, it's easy to over-do. I like to use a small strainer held high over the plate to remove clumps and distribute the spice evenly. Enjoy!

© 2023 World Spice Merchants https://www.worldspice.com
If Cajun & Creole is your kind of cuisine, check out these recipes for a Cajun Cobb Salad or a Voodoo Bloody Mary.