Creole Sausage and Shrimp Jambalaya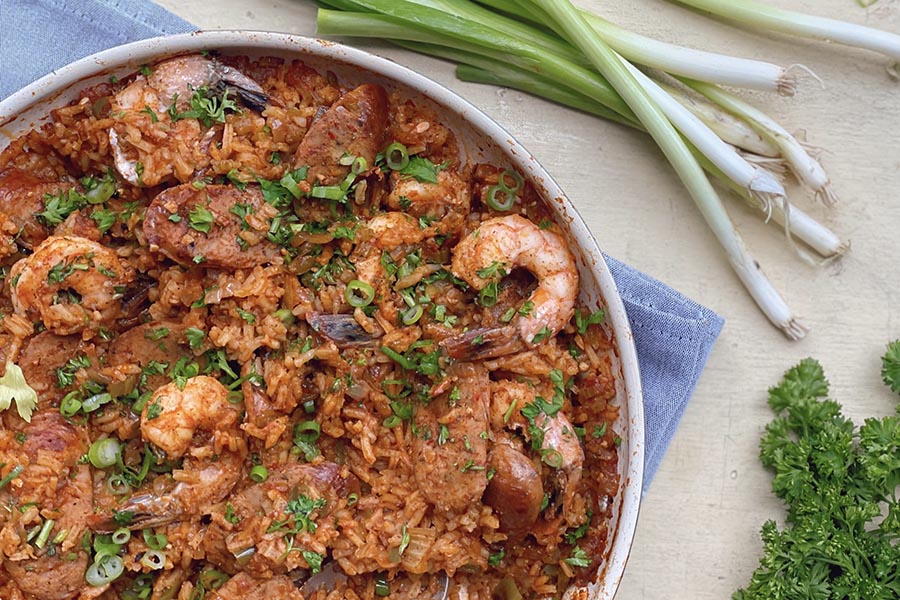 Many cuisines have a meat and rice dish in their repertoire, and Jambalaya is the Deep South's version. This dish doesn't take all that long to cook, making it a delicious one pan meal. The rice absorbs all of the flavors from the Andouille sausage, garlic, shrimp and the "holy trinity" of Creole cooking – bell pepper, celery and onion. Adding our Creole Spice doubles down on the flavor with a base of paprika, thyme, oregano and cayenne, giving the dish a solid kick of heat. This is a great choice for a week night dinner for two — or double it in a paella pan for a celebration.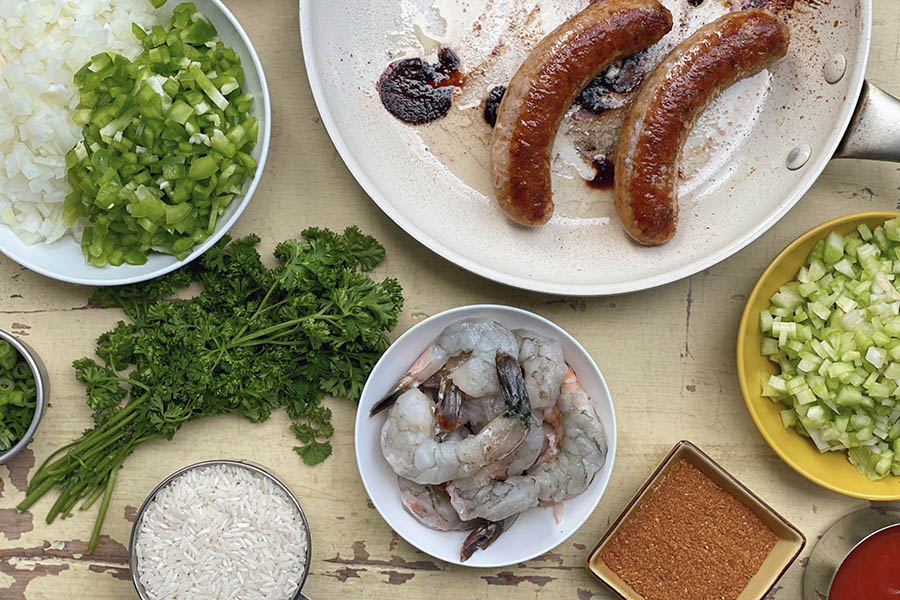 Minimize your dishes and reuse the pan where the andouille sausages were cooked. All of the brown bits and butter left in the pan will be extra flavor added to the jambalaya.
Ingredients
2 tablespoons butter
1/2 pound Andouille sausage, about 2 links
2 cloves garlic, minced
1/2 cup sweet onion, small dice
1/2 cup celery, small dice
1/2 cup green bell pepper, small dice
1 cup tomato sauce
1 tablespoon Creole Spice, ground
1 cup chicken stock
1 cup uncooked long grain white rice
1/2 pound peeled and deveined shrimp
2 teaspoons kosher salt
2 green onions, thinly sliced
1/2 cup parsley, minced
Instructions
In a skillet over low heat, melt the butter and add the whole sausage links. Cook sausages until done and browned on both sides, about 8-10 minutes. Remove the sausages from the pan and set them aside until cool enough to slice.
Using the same skillet, increase the heat to medium and add the garlic, sweet onion, celery, and bell pepper. Cook them until soft and transparent.. Add the Creole Spice, and stir to mix in evenly with the vegetables. Then slice the Andouille sausages into discs and add them to pan along with the vegetables.
Add the stock and tomato sauce, stir to mix thoroughly and increase the heat to medium-high. Bring to a simmer and then add the rice, stirring well, and reduce the heat to low. Cover and simmer until the rice is tender, approx. 20 minutes.
Uncover the dish and fluff it with a fork, then evenly distribute the shrimp on top. Cover and cook for 3-5 minutes more, or until the shrimp is pink and cooked through. Garnish the Jambalaya with fresh green onion and parsley and enjoy! Serve with some sweet iced tea. :).
© 2022 World Spice Merchants https://www.worldspice.com
If you love this one pot meal, play with this recipe and swap out the Creole Spice with  Cuban Spice for a Latin spin. Its mixture of garlic, oregano and citrus will be savory with a Caribbean flair. If you're adventurous we suggest our Berbere, an African blend traditionally used for stews. Once married with the tomato sauce, it will be fragrant of coriander, ginger and cumin, pairing well with the sausage and shrimp.