Ras El Hanout Plum Preserves
Her name was Edna Nosworthy, and she had the same birthday as I do- only eighty years difference. She had a bottomless stash of Tootsie Rolls, made a mean Snickerdoodle, and had a sprawling green lawn dotted with fruit trees- apples, pears, cherries, and Italian plums. Every summer, the other families lucky enough to know Edna would gather in her yard to harvest her fruit, which she would then turn in to vats of phenomenal home goods- pickles, preserves, jams, and pie fillings.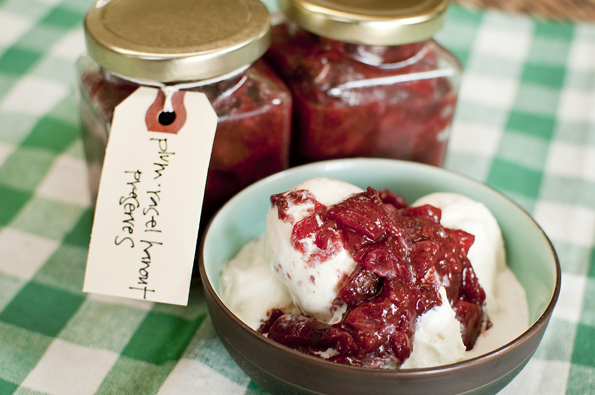 These preserves are an homage to all of the "Greatest Generation" who inspire us to use what we have, and share with our neighbors. The global update is lent by the Moroccan staple, Ras El Hanout, whose complex flavors support and feature the sweet-sour plums. Any variety of plum will do- and the choices abound! A loop around your local Farmer's Market will alert you to the bumper year it's been for this stellar stone fruit in the Northwest, or if you're lucky enough to have an Edna Nosworthy in your life, you'll opt for Italian all the way. Serve them over ice cream- as we've pictured- or as a dipping sauce for a juicy lamb kebab.
Ingredients
2 lbs. firm-ripe plums, any variety
¼ cup brown sugar
½ cup water
1 tablespoon Ras El Hanout
Instructions
Coarsely chop plums and stir together with water, sugar, and cinnamon stick in a 2 quart, heavy saucepan.
Simmer, uncovered, stirring occasionally to prevent sticking, stirring more often as cooking process progresses.
Mixture will thicken and reduce to about 2½ cups within 45 minutes to 1 hour.
Discard cassia stick, and stir in Ras El Hanout.
Cool preserves, and transfer to an airtight container to chill and store.
© 2023 World Spice Merchants https://www.worldspice.com