Southwest Pumpkin Soup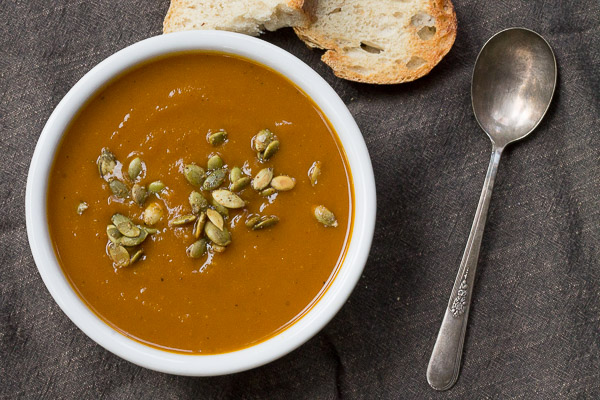 This southwest pumpkin soup is a delicious fall treat, perfectly spiced with warm heat from our Chorizo Bomb. Sultry smoke from our perennial favorite, smoked paprika, rounds out the taste. Cooking your own pumpkin for this recipe is really easy, but the canned pureé works fine as well. Serve it up with crusty bread and a nice porter or stout and you've got an instant Oktoberfest!
Ingredients
2 medium pumpkins, or 3 cans pumpkin pureé
2 tablespoons vegetable oil, divided
1 medium onion, diced
¼ teaspoon kosher salt
2 cloves garlic, minced
1 apple or pear, diced
1 ham hock
4 cups low sodium chicken broth
2 teaspoons Chorizo Bomb, divided
½ teaspoon sweet smoked paprika
½ teaspoon freshly ground black pepper
2 tablespoons maple syrup
½ cup porter or stout beer
Instructions
For the pumpkin:
Preheat the oven to 400 degrees and lightly oil a large sheet pan. Cut the pumpkin in half and scoop out all the seeds. Rub a little oil around the rim of each pumpkin half and place them, cut side down, on the sheet pan. Cook 30-45 minutes until you can easily pierce the thickest part of the flesh with a paring knife. Allow the pumpkin to cool just enough to handle. Scoop out the flesh and discard the skin.
For the soup:
In a 6 quart soup pot or Dutch oven, over medium-low heat, add the oil, onion and kosher salt and cook until fragrant, about 3 minutes. Add the garlic, apple or pear and 1 teaspoon of the Chorizo Bomb, and cook one minute more until you can smell the spices.
Increase the heat to medium-high and add the ham hock and chicken broth and bay leaf. Bring the soup to a boil, and then reduce the heat to simmer. Cook for 20-30 minutes until you can pull the meat from the bone. Remove the ham hock and set aside.
Add the remaining spices, pumpkin, maple syrup and porter or stout beer. Simmer for 15-20 minutes. While the soup is cooking, remove the ham pieces from the bone and set aside.
Allow the soup to cool slightly and pureé with an immersion or countertop blender. Add the ham back to the soup, and warm to serving temperature.
Adjust the seasonings if needed and garnish with Adobo Pumpkin Seeds
© 2023 World Spice Merchants https://www.worldspice.com