Chorizo Bomb Stuffed Acorn Squash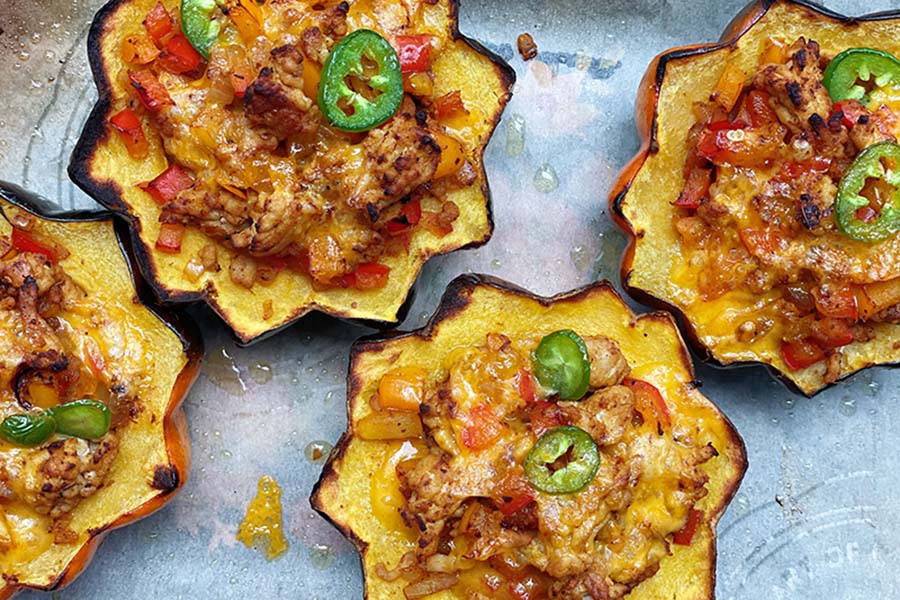 Acorn squash is one of my favorites because they can be personal sized and filled with whatever you're craving. This recipe is simple and Chorizo Bomb does all of the work. As the name implies, it is an explosion of flavors with minimal ingredients.  We start off by roasting the acorn squash until tender and caramelized to bring out its nutty sweetness. We kept this recipe grain-free by stuffing the squash with ground chicken and sweet peppers. To bring it all together, we added Chorizo Bomb which is made up of ground smoked chilies and oregano, thyme and cumin. In a matter of minutes, your house will smell of Fall chiles. Add a sprinkle of cheddar, then a quick trip to the oven for golden brown deliciousness.
Ingredients
6 small to medium acorn squash, halved
pan spray
1 tablespoon olive oil
1 lb ground chicken breast
1 cup bell peppers, small diced
1 cup yellow onion, small diced
3 garlic gloves, minced
2 teaspoons salt
2 teaspoons Chorizo Bomb
1 jalapeño, thinly sliced
1 cup sharp cheddar, shredded
Instructions
Preheat the oven to 375 degrees.
Cut about half an inch off of the tops and bottoms of acorn squash. This is so they lay flat while roasting. Once acorn squash are trimmed, cut them in half and using a spoon, scoop out the insides and discard.
Line a half-sheet tray with parchment paper and arrange all of the acorn squash on it, open side up and lightly spray them with olive oil spray. This will help them caramelize while cooking.
Roast the squash for 45 minutes or until tender.
Meanwhile in a large saute pan over medium-high heat, add the olive oil and ground chicken. Cook until the chicken is starting to brown and add the peppers, onion and garlic. Cook until the veggie mixture is translucent, then add the Chorizo Bomb and salt.
Once the acorn squash is fork tender, fill the squash with the chicken mixture and add a sprinkle of shredded cheddar cheese on top of each acorn squash. If you're a lover of heat, garnish the stuffed squash with some sliced jalapeño.
Put the stuffed squash back to the oven and broil for 2 minutes or until the cheese is melted and browned. Serve immediately. Feel free to garnish with a dollop of sour cream or salsa.
© 2023 World Spice Merchants https://www.worldspice.com