Smoky Hazelnut Chocolate Cookies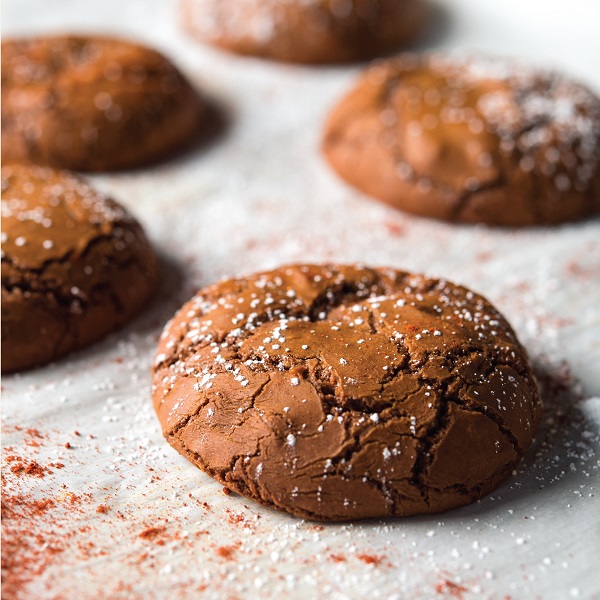 From My Two Souths and Chef Asha Gomez, we get this recipe for Smoky Hazelnut Chocolate Cookies. Her singular recipes are rooted in her love of Deep-South cooking, as well as the Southern Indian flavors of her childhood home in Kerala. This September 2017 Cookbook Club book selection has intrigued our spice specialists since it first landed on our shelves, and this is one of the first recipes we tried. We're thrilled to share it with you. For more on Asha Gomez's recipes, follow her on Twitter and/or Facebook.
From the author: "I have no doubt that, if I allowed him to do so, Ethan would eat a jar of Nutella in one sitting. To ensure that this creamy hazelnut spread wound up as an ingredient rather than the main course, I realized I had to come up with a Nutella recipe for my boy. Given his well-practiced sweet tooth, a cookie was the obvious and easy direction to take. But, as you may have gathered, my son is his mother's boy: Ethan loves spice in every form and shape as I do. When I added a hint of sugared, smoked paprika to Nutella cookie dough, I knew I had hit it out of the park. These are now Ethan's favorite cookies, and he won't even give them time to cool before snatching them up. I think my kid has a rather grown-up sense of taste for a ten-year-old. I wonder where he got it? My favorite part of this recipe is mixing the dough with my hands, and Ethan loves to roll up his sleeves and get in on the action."
Ingredients
1 cup unbleached all-purpose flour
1/2 cup white granulated sugar
2 teaspoons smoked sweet paprika, divided
2 large eggs
1 cup (8 ounces) Nutella, at room temperature
1/4 cup (2 ounces) hazelnuts, roasted, skinned, and chopped (see notes)
cooking spray
1 tablespoon confectioners' sugar, for dusting
Instructions
Heat the oven to 350 degrees.
In a medium bowl, using your hands, mix together the flour, sugar, 1-1/2 teaspoons of the smoked paprika, and eggs to form a crumbly dough. Mix in the Nutella and hazelnuts and work to form a smooth dough, no more than 2 minutes.
Spray a cookie sheet with cooking spray and set aside.
Separate the dough into 10 equal parts, using your palms to roll them into round balls. Place the balls on the cookie sheet, 1 inch apart. Bake for 6 to 8 minutes, or until the cookies are flat discs, crisp around the edges. Remove the cookies from the oven; dust with the remaining smoked paprika and confectioners' sugar. Eat them immediately - like Ethan - or after they have cooled down.
Notes
To roast and skin hazelnuts, toast the nuts on a sheet pan in a 350 degrees oven for 12 to 15 minutes or until they are beginning to brown and are very fragrant. Place the nuts in a kitchen towel and gather up the edges to form a bundle. Rub the nuts together in the towel to remove most of the dark-brown skin.

© 2023 World Spice Merchants https://www.worldspice.com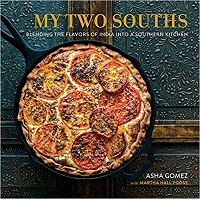 Reprinted with permission from My Two Souths: Blending the Flavors of India into a Southern Kitchen © 2016 by Asha Gomez with Martha Hall Foose. Photo credit: Evan Sung. Published by Running Press.
My Two Souths: Blending the Flavors of India into a Southern Kitchen is the September 2017 selection for the World Spice Cookbook Club. My Two Souths: Blending the Flavors of India into a Southern Kitchen is currently available for purchase at our retail store and online.