Smoky BBQ Pork
Pork shoulder is one of the most inexpensive cuts of meat, and you can find it almost anywhere. The lean meat is punctuated with ribbons of fat, which self-bastes the pork as it cooks slow and oh-so-low. While the meat is fabulously tender, it doesn't boast much inherent flavor… which is where our Smoky BBQ Rub comes in. This spice blend, combined with beer, forms a marinade that infuses a wonderful smoked flavor deep in to the roast- you won't believe it came from the oven. Banana leaves are a nod to traditional Mexican carnitas, effectively steaming the meat as it cooks slowly, holding in the moisture, while imparting some of their own nutty, grassy flavor. They can be purchased in many Latin and Asian markets. You can sometimes find them fresh, but they'll often be frozen, which works just as well.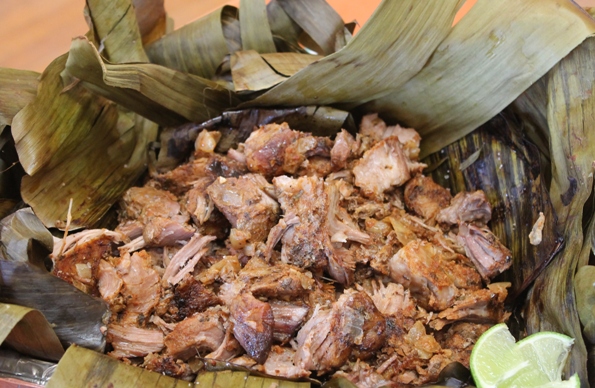 Ingredients
3 pounds pork shoulder
3 tablespoons Smoky BBQ Rub
1 tablespoon choppd garlic
1/2 cup light beer
2 teaspoons Mexican oregano
1 white onion, chopped
4 large banana leaves
Instructions
Preheat oven to 300 degrees.
In a large bowl, whisk together Smoky BBQ, garlic, beer and Mexican oregano. Place the pork in the bowl with the spice marinade and massage into the pork. Add diced onion and mix well. Marinate for three to six hours.
Holding both ends of a banana leaf, slowly drag leaf over a burner on moderately high heat until the leaf slightly changes color and become shiny. Turn leaf over and toast other side in the same fashion, then repeat process with remaining leaves.
Line roasting pan with 3 of the toasted banana leaves, shiny side down. Let excess hang over sides allowing enough excess to cover pork. Transfer pork mixture to banana-lined pan and fold overhanging leaves over pork to enclose completely. Use 4th leaf if needed.
Roast for 4-5 hours, or until pork is tender and can be easily shredded with a fork. Allow pork to cool slightly, and shred into just larger than bite-sized pieces with two forks, and spread out on a cookie sheet.
Turn your broiler on high, and adjust the oven rack to the upper 1/3 of the oven. Broil the shreds of pork for just a few minutes, until the fat sizzles and the edges of the shreds become golden and crisp.
Serve as filling for tacos, alongside beans and rice or with classic American BBQ fare.
© 2023 World Spice Merchants https://www.worldspice.com