Yucatan Rojo Pulled Pork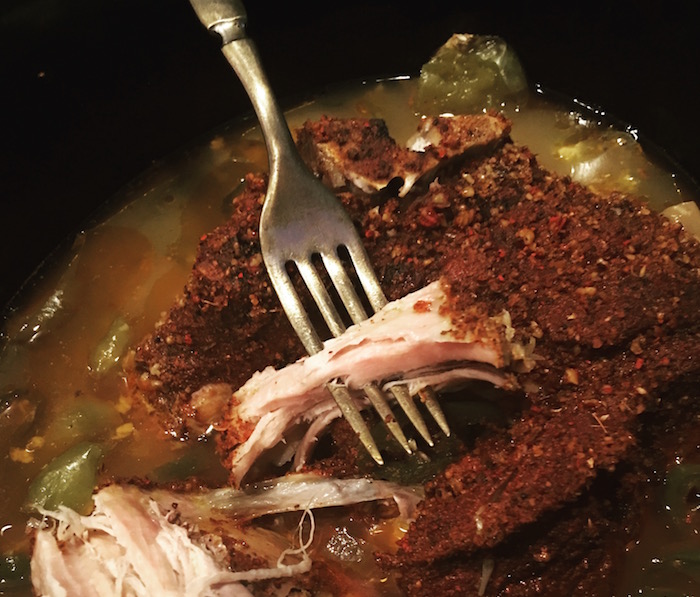 The classic flavors of the Yucatan shine in this easy slow cooker sensation. In this Yucatan Rojo pulled pork, bright citrus and earthy spices infuse every bite. The pull-apart tender meat is delicious in a variety of ways, too. Use it as a taco filling alongside a crunchy cabbage slaw or piled high on a bun for sandwiches or sliders.
Ingredients
1/2 cup freshly squeezed orange juice
1/4 cup freshly squeezed lime juice
6 medium garlic cloves, smashed
1 large yellow onion, coarsely chopped
1 boneless or bone-in pork shoulder, 3-5#
3 tablespoons Yucatan Rojo Rub, ground
1 teaspoon kosher salt
1 1/2 pounds tomatillos, quartered
3-4 jalapeños, sliced
Instructions
In the bottom of a large slow cooker, add the citrus juices, garlic and onion, stir to combine.
Remove any netting from the pork roast, rub generously with the Yucayan rojo rub and sprinkle with kosher salt. Place the roast in the slow cooker.
Top the roast with the tomatillos and jalapeños.
Cook on low for 8-9 hours or high for 4-5 hours, until the pork pulls apart easily with a fork.
Remove the roast and skim the fat from the juices.
Return the roast to the cooker and shred the meat. Cook one hour more to allow the flavors to fully develop between the sauce and the meat.
Enjoy in tacos, sandwiches, salads or huevos rancheros.
Notes
We adapted this Spicy Pulled Pork by Chris Rochelle with our signature spice blend. Its great both ways!
https://www.silkroaddiary.com/yucatan-rojo-pulled-pork/
World Spice Merchants https://www.worldspice.com
If you're looking for more slow cooker recipes, then check out our Cuban Pork with Mojo Sauce!