BBQ Broccoli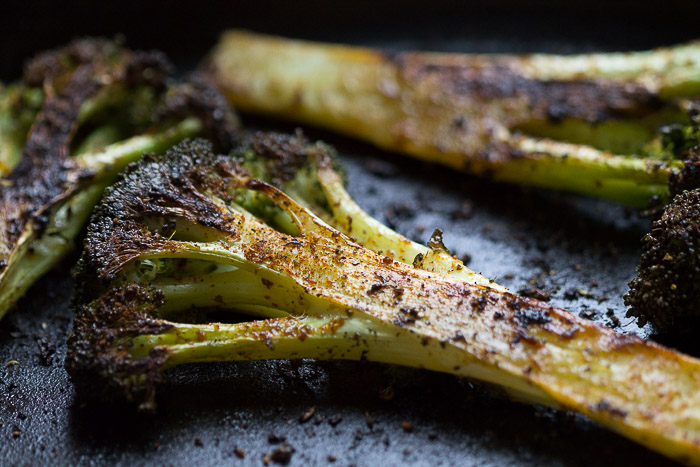 Eat your vegetables? Yes, please! We love to cook outside the box, so why not treat broccoli like BBQ. Seasoned with KC Tailgater's BBQ Rub and roasted to perfection in a hot heavy skillet, we finished the BBQ broccoli with a delightful Honey Bourbon dipping sauce.
Ingredients
For the Broccoli
1 bunch broccoli, 2-3 stalks
1 tablespoon avocado oil, divided
1 tablespoon ground KC Tailgaters BBQ Rub, divided
For the Dipping Sauce
2 tablespoons honey
1 tablespoon bourbon
1 teaspoon stone ground mustard
dash Worcestershire sauce
Instructions
Preheat the oven to 450 degrees
To prepare the broccoli, chop the ends off the stalks and peel away the tough outer layer from the remaining stalk. Cut the heads in halves or quarters, depending on the size of the heads and the size of your pan. You'll need a large cast iron skillet and will get best results if the broccoli pieces can lay flat in the pan without touching.
Add 1 1/2 teaspoons of avocado oil to a large cast iron skillet and preheat the pan in the hot oven for 3-4 minutes.
Remove the pan and tilt to evenly coat the bottom of the pan with the hot oil. Sprinkle 1 teaspoon of the KC Tailgaters BBQ Rub evenly across the surface of the oil, it should really sizzle!
Arrange the broccoli in the pan, cut side down and press each piece flat for a nice sear.
Return the pan to the oven and cook 20 minutes.
Remove the pan and drizzle more oil and spice over the broccoli, then turn the pieces over. Cook about 10 minutes more, until the edges look crispy.
While the broccoli is roasting, combine the sauce ingredients in a small bowl and mix well.
Notes
Adapted from The Broccoli Roast by Deb Perelman

© 2022 World Spice Merchants https://www.worldspice.com
Want to make it a meal? Check out our full lineup of grill recipes.