Nuts & Bolts
July 9, 2016
/
A ton!
/
/
Print
/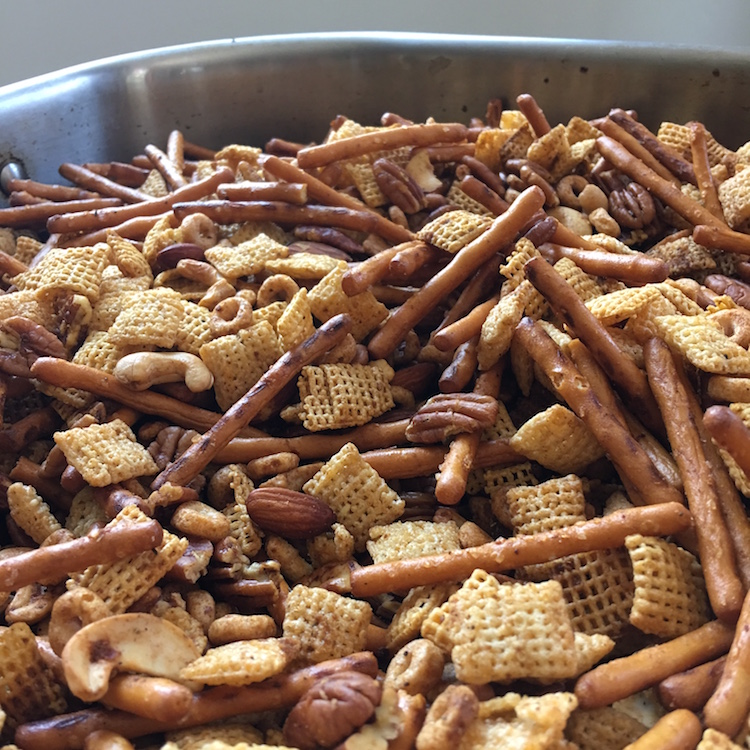 Summer is a time of nostalgia and what better than a vat of baked snack mix to carry you back.  In this recipe, the classic Nuts & Bolts gets a spice make-over and goes gluten-free, but we didn't skimp on the butter! So, next time the family is coming to town or you're hosting a large group, whip up a batch of this addictive snack mix. We're featuring it here with our Smoky BBQ Rub but really anything goes so add your favorite spice and enjoy.
Ingredients
4 cups corn chex
3 cups rice chex
4 cups skinny bite-sized pretzels, gluten free
2 cups cheerios
5 cups unsalted mixed nuts
1 1/2 sticks unsalted butter, melted
3 tablespoons Worcestershire sauce
3 heaping teaspoons Voodoo
1 tablespoon + 1 teaspoon ground Smoky BBQ Rub
Instructions
Preheat the oven to 250 degrees.
In a large roasting pan, combine the chex cereal, pretzels, cheerios and nuts.
In a small saucepan, melt the butter and stir in the butter, Worcestershire sauce and spices.
Pour the melted butter mixture over the snack mix in the roasting pan and stir well to combine.
Bake for about 90 minutes, stirring every 15-20 minutes until the mix is evenly crisp.
© 2023 World Spice Merchants https://www.worldspice.com