Smoky Roast Chicken with Voodoo White BBQ Sauce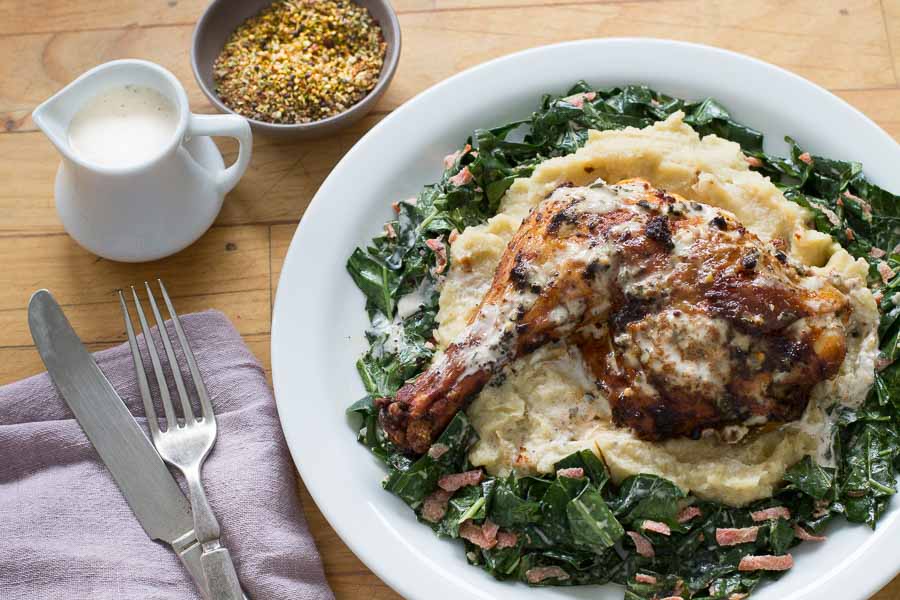 White BBQ Sauce? Yes, really! A base of vinegar, mayonnaise and horseradish whip together for a traditional southern sauce on smoked chicken. Add our Voodoo to the mix and you've really got some spell-binding flavor! For this recipe we've used the sauce to finish a roast chicken, seasoned with Smoky BBQ Rub and Meyer Lemon Paste. This meal is easy enough to roll out for a weeknight dinner and impressive enough for guests. Served with collard greens and mashed potatoes for a delicious down-home dinner.
Ingredients
For the Sauce
1 cup mayonnaise
1/3 cup apple cider vinegar
2 tablespoons prepared horseradish
2 tablespoons Voodoo
For the Chicken
Instructions
For the Sauce
Combine the ingredients in a wide mouthed pint jar. Stir or shake well to combine. This sauce gets better with time! Make a few hours ahead for maximum flavor.
For the Chicken
Preheat the oven to 400 degrees.
Line a large sheet pan with foil and a wire grid rack, spray with oil.
In a small bowl, combine the Smoky BBQ Rub, lemon paste and oil, stir to combine into a paste.
Lay the chicken on the grid rack and spread the spice paste under the skin and all over the bird.
Put the pan in the oven and check after 15-20 minutes. If the skin is darkened and crispy, tent with foil to prevent burning. Continue roasting until the thickest part of the breast reaches 165 degrees, 30-40 minutes more.
Notes
If you don't have Meyer Lemon Paste on hand, you can substitute the juice of one lemon and 1 1/2 teaspoons of kosher salt.
© 2023 World Spice Merchants https://www.worldspice.com
If you've never spatchcocked a chicken, trust me, it is easy and SO worth it to learn this simple technique. (Thank you again J Kenji Lopez) It takes so much of the fuss and guess-work out of cooking a whole chicken and the succulent meat is amazing.