Chimichurri Flank Steak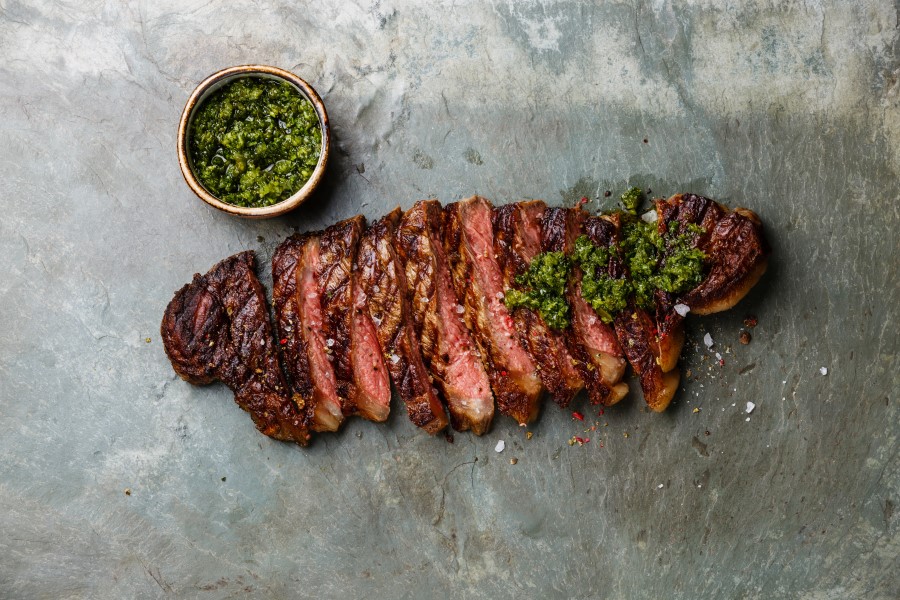 Our Chimichurri Spice combines a whole lot of flavors: the almost apricot flavor of aji mirasol chiles, the peppery sweetness of guajillo and New Mexico chiles, and the earthiness of oregano, cumin and bay. Together, they;re an ideal flavor base to make Chimichurri sauce. Just mix it with lots of fresh herbs, citrus, plenty of garlic, vinegar and oil. You'll have a sassy sauce that begs to be put on…..everything!
When used as a marinade, the grill fire tames the acidity of the vinegar, enhances the sweetness of the citrus, and intensifies the heat of the chiles. Use another drizzle of sauce to make any cut of meat, beef especially, perfectly balanced. Chimichurri gives that sweet-tart-spicy-meaty union that screams "summer food" the world over. The flavors of this sauce meld together over time, so keep some in the fridge all summer long.
Ingredients
For the Chimichurri Sauce
1 cup fresh parsley, coarsely chopped
1/2 cup fresh basil, coarsely chopped
1/4 cup fresh cilantro, coarsely chopped
1/4 cup minced garlic
2 tablespoons Chimichurri Spice
3/4 cup white vinegar
1/4 cup sherry vinegar
1/4 cup water
2 cups vegetable or safflower oil
1/4 cup lime juice
For the Steak
2 - 3 lbs. flank steak
lime wedges for serving
Instructions
For the Chimichurri Sauce
Combine all ingredients in a blender and blend on medium to more finely chop the herbs and break down the garlic. Don't liquefy! You want to finely chop the herbs but still see flecks of green.
Pour the marinade into a glass jar with good seal. It will keep for a month or more in the refrigerator...and just keep getting better. Give it a good shake before using.
For the Steak
Put the flank steak in a large resealable bag, and add enough of the Chimichurri Sauce to thoroughly coat the steak. Squeeze all of the air out of the bag, and seal. Place bag on a plate and put in the refrigerator. Marinate for at least 2 hours, or overnight.
You can either grill or broil this flank steak. When your coals are hot and ready for cooking, take the flank steak out of the bag, but make sure that it still has some of the Chimichurri Sauce coating it when you put it on the grill.
Grill or broil it to your desired doneness. When you take it off the grill, allow it to rest for 5 - 10 minutes.
Slice the steak against the grain and serve on a bed of rice with a drizzle of Chimichurri sauce over the top and more on the side, along with a lime wedge.
Notes
You can vary the selection and proportion of herbs in this recipe in so many fun and tasty ways. Increase the herbs for a thicker consistency to use for dipping and topping or play with oregano, marjoram or whatever is fresh in your market or garden.

© 2021 World Spice Merchants https://www.worldspice.com