Chimichurri Rhubarb Slaw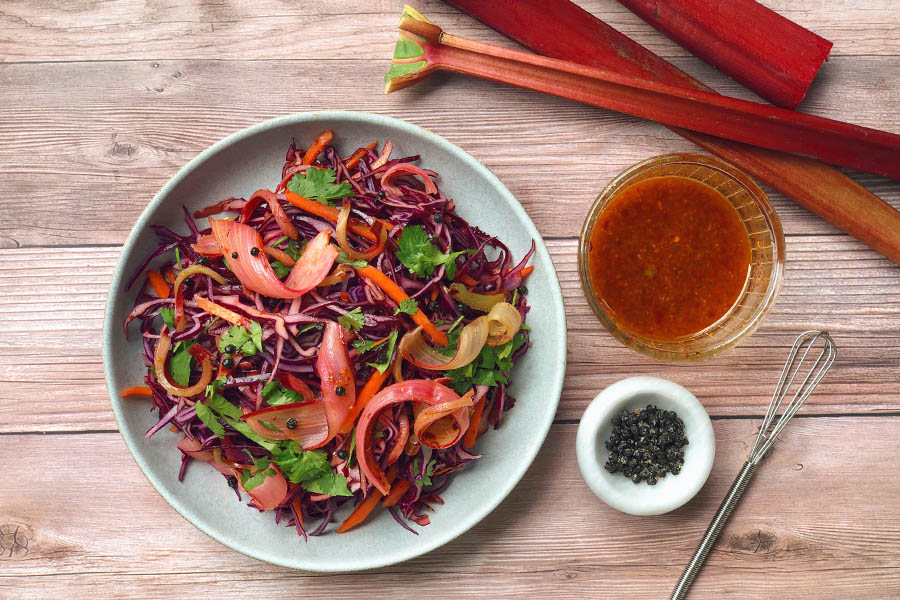 Rhubarb is the star of this stunning slaw. Woefully underutilized as a seasonal vegetable, the raw flavor is both sour and fruity. Combined with a crunchy mixture of purple cabbage, carrots and shallot, it brings a rainbow to your spring salad plate. To fancy it up further, we added the thinly sliced rhubarb to ice water to add crisp and curl to it. A vinegar based dressing seasoned with our Chimichurri Spice brings it all together beautifully. This blend has bold flavors with a mild fruity heat. Traditionally this Argentinian blend gets paired with fresh herbs and grilled meats, but here it adds earthiness to the salad. Because we couldn't resist, we topped it with a final wow factor with a sprinkle of brined Kampot peppercorns for a burst of salty spice.
Ingredients
Chimichurri Vinaigrette
Slaw
2 rhubarb stalks
1-1/2 cups carrot, julienned with mandolin
1/2 purple medium cabbage, thinly sliced
1/2 shallot, thinly sliced
1/2 cup cilantro, chopped
2 teaspoons Kampot brined black peppercorns
Instructions
Chimichurri Vinaigrette
In a small bowl whisk together all of the ingredients until combined and salt has dissolved. Set aside for dressing the slaw.
Slaw
Using a "Y" peeler, thinly peel the rhubarb into long thin strips. With the leftover rhubarb that is too thin to peel, cut the stalks thinly into strips. Add the rhubarb strips to a container of ice water with a lid and refrigerate for 4 hours or overnight. Strain the rhubarb and discard the water. Cut the rhubarb curls down, if necessary.
In a large bowl, add the rhubarb and the cut carrots, cabbage and cilantro. Add all of the dressing and give it a quickly toss until coated. Garnish with brined Kampot peppercorns and serve cold.
© 2021 World Spice Merchants https://www.worldspice.com