Tagged With:
Chimichurri Spice
Rule #1 of the Spice Merchant's Camping Handbook: Just because you are sleeping on the ground, doesn't mean you have to eat franks and beans! We took Chimichurri sauce camping with us this weekend, and the results were fantastic! We had Chimichurri flank steak for dinner plated up with Voodoo grilled zucchini and followed by Dutch Oven peach and huckleberry cobbler, cause that's how we roll. (For great information on using a Dutch Oven click here.)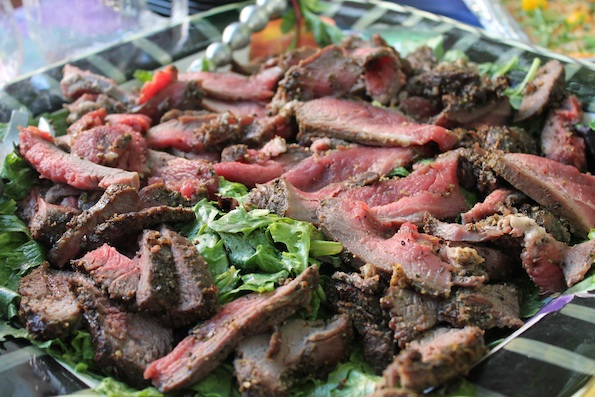 Classic Argentinian Chimichurri sauce combines the almost apricot flavor of the aji mirasols, the peppery sweetness of guajillo and New Mexico chiles, and the earthiness of oregano, cumin and bay with fresh herbs, citrus, plenty of garlic, vinegar and oil, to create a sauce that you'll find excuse after excuse to use. It couldn't be easier to make– just throw the sauce ingredients together in a blender and voila! You're headed down, down to flavor town.
When used as a marinade, the grill fire tames the acidity of the vinegar, enhances the sweetness of the citrus, and intensifies the heat of the chiles. Another drizzle of sauce to finish leaves any cut of meat, beef especially, perfectly balanced in that sweet-tart-spicy-meaty union that screams "summer food" the world over. The flavors of Chimichurri sauce bloom over time, melding together and becoming even more cohesive, so make enough to keep in the fridge for about a month. Insider tip: A "month's worth" is double what you think it is.
Ingredients
For the Chimichurri Sauce

1 cup fresh parsley, roughly chopped
1/4 cup minced garlic
2 tablespoons Chimichurri Spice
3/4 cup white vinegar
1/4 cup sherry vinegar
1/4 cup water
2 cups canola or vegetable oil
Murray River flake salt, to taste
1 or 2 limes, juiced plus extra for serving with the steak

For the Steak

2 - 3 lbs. flank steak
Instructions
For the Chimichurri Sauce

Combine all ingredients in a blender or food processor and blend. Pour into a glass jar with good seal. It will keep for a couple of months in the refrigerator...and just keep getting better. Give it a good shake before using.

For the Steak

Put the flank steak in a large resealable bag, and add enough of the Chimichurri Sauce to thoroughly coat the steak. Squeeze all of the air out of the bag, and seal. Place bag on a plate and put in the refrigerator. Marinate for at least 2 hours, but overnight is even better.
You can either grill or broil this flank steak. When your coals are hot and ready for cooking, take the flank steak out of the bag, but make sure that it still has some of the Chimichurri Sauce coating it when you put it on the grill.
Grill or broil it to your desired doneness, being sure to get good grill marks on both sides. When you take it off the grill, allow it to rest for 5 - 10 minutes.
Slice the steak against the grain, put it on a platter (no sneaking a piece!), and drizzle with more Chimichurri Sauce. Serve it with a little bowl of sauce and some fresh cut up limes on the side.
Notes
You can mix some cilantro in with the parsley for extra flavor.
https://www.silkroaddiary.com/chimichurri-flank-steak/
World Spice Merchants https://www.worldspice.com
Categories:

BBQ, Course, Global Cuisines, Grilling Season, Latin America, Main Meals, North America, Recipes, Sides
Tags:

BBQ, Beef, Chimichurri Spice, Easy, Grill, Marinade, Seafood, Vegetables
3 Comments