Ayam Tofu with Coconut Cream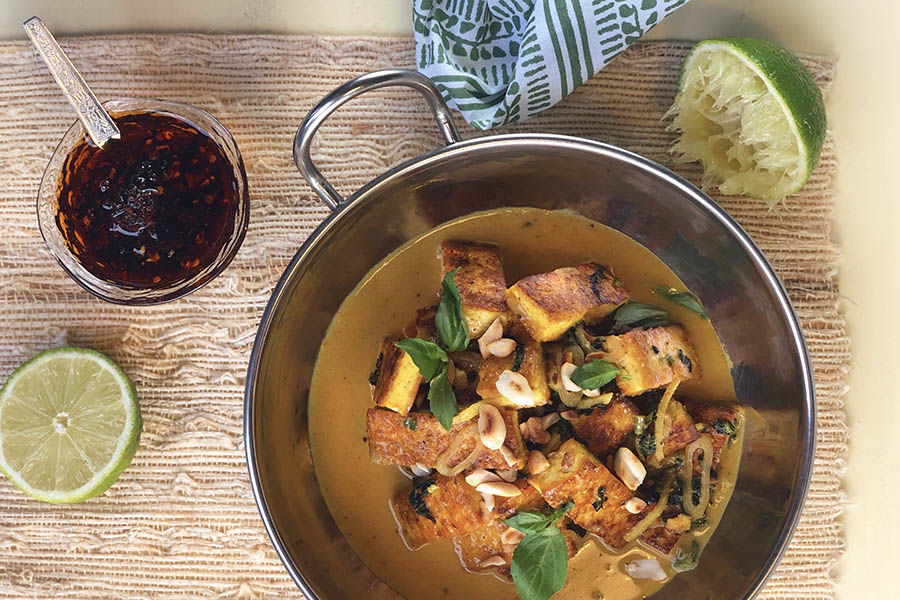 This vegan dish is luscious and bold, but dish takes only minutes to make. Rich in flavor and textures, the crispy tofu gets bathed in a silky coconut cream sauce seasoned with our Indonesian Ayam. Our Ayam seasoning is a mild curry that is sweet and earthy, so when you pair it with fresh aromatics ginger, shallot and Thai basil, you get a flavor in your dish that hits all the flavor notes. Pair this quick and easy entrée with withsalad, rice or noodles.
Ingredients
14oz firm tofu, drained and cut into 1'' x 2'' pieces
2 tablespoons vegetable oil
2 tablespoons shallot, julienned
1 tablespoon fresh ginger, peeled and cut into matchsticks
1 tablespoon Indonesian Ayam, ground
6 oz unsweetened coconut cream
1 teaspoon brown sugar
1 tablespoon soy sauce
Garnish
¼ cup roasted chopped peanuts
Thai basil
Lime wedge
Instructions
Prep the tofu first and set it aside on a paper towel to further dry while you prep the other ingredients.
Pour and vegetable oil in wok and tilt it around to spread the oil, then place the pan on medium high heat. Preheat the wok thoroughly and ensure that the oil is well distributed. The wok needs to be hot enough for the tofu not to stick but not so hot that it burns.
Carefully and evenly lay tofu in wok and fry for two minutes until tofu edges get golden brown. Flip and toss tofu until all sides are crispy.
Next add the shallot, ginger and Indonesian Ayam. Gently toss until fragrant for 1 minute. Pour in the coconut milk, sugar and soy sauce. Simmer for another minute until the sauce thickens. Transfer to a serving dish and finish with Thai basil, peanuts and a squeeze of lime juice.
© 2023 World Spice Merchants https://www.worldspice.com