Madras Curry
Ever notice how curry tastes better the second day? It's because the flavors have combined into something greater than the sum of the parts. For best results, the ingredients and especially the spices must be painfully fresh.
Always cook within the season's availability. Winter is the domain of root vegetables and warming spices, whereas summer is filled with lighter fare and bright, fresh flavors. We used chicken, peas and our Madras Curry for this recipe, but you can try substituting any mix of vegetables, meats, or regional curry powders into the basic recipe below.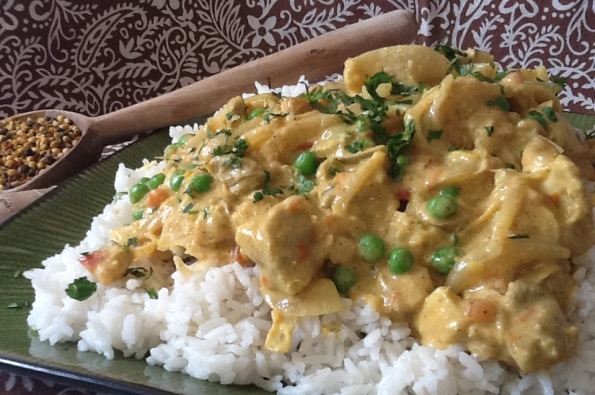 Ingredients
4 cloves garlic, peeled
1 4-inch long piece ginger, peeled
2 tablespoons canola oil
1 small red onion, thinly sliced
1-1/2 lb. boneless, skinless chicken breasts or thighs, cut into 1-inch pieces
1-1/2 tablespoons ground Madras Curry
1-1/2 teaspoon kosher salt
1/3 cups unsweetened light or regular coconut milk
4 Roma tomatoes, cored and finely diced
2 tablespoons fresh cilantro, finely chopped
1 cup peas, fresh or frozen
Rice cooked to taste.
Instructions
Preheat large sauté pan over medium-high heat. Using a mortar and pestle (or small food processor), make a paste of the garlic and ginger.
Add oil to pan, then chicken pieces. Cook until chicken is browned on all sides, then add onion and garlic-ginger paste. Stir frequently until the onion, garlic and ginger start to get some color, about 3-5 minutes. Add curry powder and saute for a minute. Stir in salt, diced tomatoes and coconut milk. Lower heat to medium, cover and simmer about 5 minutes.
Cook the chicken until it is fork-tender and no longer pink inside. Raise heat to medium-high, 3-5 minutes, or until sauce starts to thicken. Add peas and cilantro, stirring to heat through, 2-3 minutes.
Serve immediately over rice, and enjoy! (And hope for some leftovers for lunch tomorrow...)
© 2023 World Spice Merchants https://www.worldspice.com