Sri Lankan Sweet Potato Pie
Our holiday motto? Don't skimp on the sweets! And add ambrosial spices whenever possible…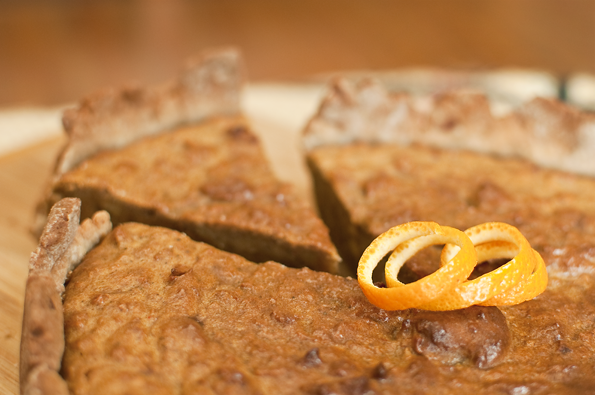 As such, this incredible sweet potato pie is a must for our Thanksgiving menu because it does both. We adapted this recipe to feature our Sri Lankan Curry, which has none of the savory turmeric that we often expect in our curries but is instead made up of a melange of warm, sweet spices. Each component is individually toasted before being mixed in perfect proportion, yielding an intensely dark and aromatic blend so intoxicating that most customers who give it a whiff can't leave without it. The sweet potatoes are a perfect canvas for the deep, toasted flavors of the spice, with just a pop of orange zest added for contrast. The crust is a dense, almost shortbread-like shell made with chopped pecans for a special crunch. This pie will please all who grace your autumn table!

Ingredients
For the Dough:
1 cup raw unsalted pecans, shelled, half coarsely ground and half finely ground
1 3/4 cups all-purpose flour, plus more for dusting
3/4 cup plus 1 tablespoon confectioners' sugar
1 1/2 teaspoons coarse salt
1 tablespoon finely grated orange zest
1/2 cup (1 stick) cold unsalted butter, cut into 1/4-inch pieces
1 large egg yolk plus 1 large egg
 
For The Filling:
2 tablespoons all-purpose flour
2 teaspoons ground Sri Lankan Curry
2 cups roasted and mashed sweet potatoes (see recipe for roasting instructions)
2 eggs
¾ cup brown sugar
1 cup sweetened condensed milk
2 tablespoons melted butter
½ teaspoon vanilla extract
Instructions
To make the dough:
Whisk together nuts, flour, sugar, salt, and zest in a large bowl. Using your fingertips, work butter in to the dry ingredients until the largest pieces are the size of peas.
Make a well in the center of the dough. Whisk yolk and egg in a small bowl, and pour into the well. Gradually draw flour mixture into center, kneading until combined. Shape dough into a disk. Wrap in plastic, and refrigerate overnight (up to 3 days).
Let dough come to room temperature; roll out on a lightly floured surface to 1/4 inch thick. Fit dough into a 9 inch spring form pan, pressing and patching so that dough reaches up sides of the plate. Chill in freezer while you make the filling.
To make the filling:
Preheat your oven to 400 degrees.
Wash and peel the sweet potatoes, and pierce them in several places with a fork. Place on a baking sheet lined with tin foil or parchment paper, and roast for 45-55 minutes or until very tender. Puree in a food processor, mash with a potato masher or in a stand mixer, using the whisk attachment.
Combine dry ingredients in small bowl.
Beat sweet potatoes in medium bowl, add eggs one at a time, beating well after each addition. Add sugar, beat to incorporate
Add Sri Lankan Curry, milk, butter, and vanilla, and beat at low speed to incorporate everything evenly and well.
Pour filling in to prepared crust, and bake at 350 degrees until puffed and firm, 40-50 minutes.
© 2023 World Spice Merchants https://www.worldspice.com