Pumpkin Pie with Apple Butter & Candied Ginger Streusel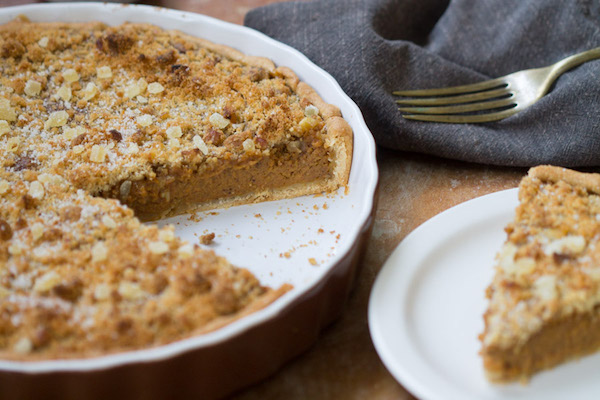 This is spiced pumpkin pie is one to love! It's more than minimalist but doesn't try too hard, pleasing both those who love the time honored classic versions and those who want something a little more interesting. Combining apple butter and pumpkin makes the most of falls harvest and the ginger and walnuts in the streusel are a delightful complement. And you can't go wrong with our original twist on Pumpkin Pie Spice, with a hint of orange and a pinch of cayenne, this blend never falls flat. Enjoy!
Ingredients
For the Streusel
1/4 cup candied ginger, chopped fine, divided
3/4 cup all purpose flour
1/4 cup brown sugar
1/4 cup chopped walnuts
1/4 cup cold butter
For the Pie
1 cup apple butter
1 cup fresh cooked or canned pumpkin
1/2 cup packed brown sugar
1/2 teaspoon salt
2 teaspoons Pumpkin Pie Spice
3 eggs slightly beaten
3/4 cup evaporated milk
1 unbaked 9" pie shell
Instructions
For the Streusel
In a medium bowl, combine the flour, sugar and cold butter pieces. Using a pastry cutter, fork or fingers, crumble together into a shaggy dough.
Combine with the walnuts and half of the candied ginger.
Set aside the streusel and reserved ginger.
For the Pie
Preheat the oven to 425 degrees
In a large bowl, combine the pumpkin, apple butter, sugar, salt and pumpkin pie spice, making sure all lumps are removed from the brown sugar. Stir in the eggs, and then gradually add the evaporated milk.
Transfer the pie filling into the crust and top evenly with the streusel.
Bake for about 40 minutes, or until set.
Transfer to a cooling rack and top with the remaining ginger for a sparkling finish.
© 2023 World Spice Merchants https://www.worldspice.com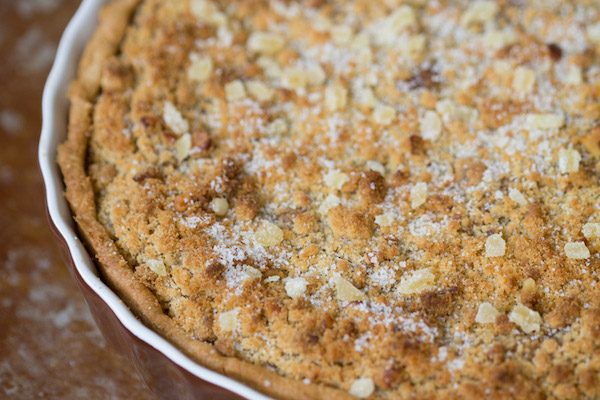 Play with your Pie!
Want to try an exotic spice combination? We love Ras el Hanout or Kashmiri Garam Masala in this pie.
Play with altering the proportion of apple butter and pumpkin to suit your taste.
Make a double streusel and freeze half so you have extra for spontaneous future pies!