Pancakes in the Wild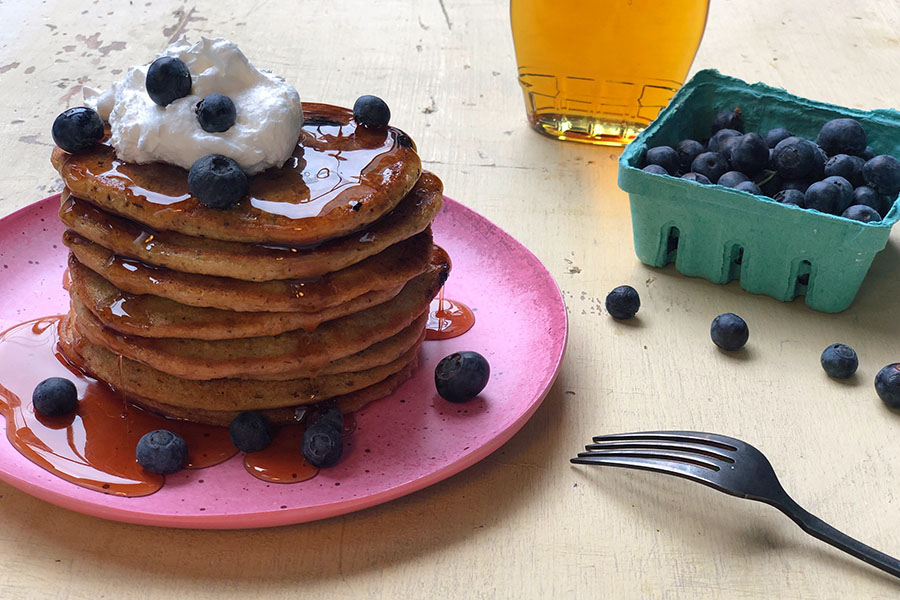 These pancakes are so good you'll want to enjoy them for more than just breakfast. In our family they began showing up at lunch, and for potlucks and then camping trips so they became "pancakes in the wild". Created by one of the the best Moms we know- here is their story:
Imagine a little boy who never stops moving. Even when standing still he is bouncing. He's a little engine that needs constant fuel and yet is mysteriously never hungry, won't sit down to eat, and will then melt down from low or spiking blood sugar. Add a couple of diagnoses to that mix and you have my son, age 8.
He loves pancakes, and who doesn't? One very smart doctor, who was also a mom, advised me to try to hide more nutritious foods inside the foods he likes. Oh, and did I mention he only will eat one food item at a time? Hot dogs, and nothing else, for days. Tortellini, and nothing else, for days.
So pancakes. I started with a regular pancake and little by little, so invisibly he didn't notice, I morphed that pancake into a tasty bundle of protein and slow burning energy for him. Inflammation inhibits executive function. With this in mind, I started with the Gluten Free mix to try to reduce any inflammation in the body that wheat might be causing. Next, I doubled the number of eggs. Eggs are brain food and protein! Then I used whole milk for calories, calcium, and more protein — a perfect slow burning fuel. Instead of butter, I opted for coconut oil, another brain food, and most importantly the almond flour. Nuts are rich with good oils and protein. They help hold down those blood sugar spikes that result in crashes.
As a result, I ended up creating a beloved family recipe. My son has been triumphantly devouring these pancakes for the past ten years! I tried more and more almond flour but there comes a point when they become too nutty tasting for him. Try working out your own favorite proportions. You can also thin the batter for a more crepe-like result and spread it with nut butter, apple butter or, best of all, Nutella (my daughter's favorite).
Ingredients
Dry Ingredients
2 cups gluten-free flour
1 cup almond flour
1 tablespoon baking powder
1 tablespoons Ras el Hanout, (optional)
Wet Ingredients
3/4 cup melted coconut oil
4 eggs, beaten
1 tablespoon vanilla extract
2 cups milk of your choice
2 cup blueberries
Instructions
Combine and mix all of the dry ingredients in a medium-sized bowl and set aside. In a large bowl, combine all of the wet ingredients. Mix in the berries last so they don't leech out their color. Fold the dry ingredients into the wet until fully combined. The batter should be a thick pudding like consistency. Adjust with extra milk if needed. Do not over mix.
On medium-low heat, butter a cast iron skillet. With a ladle, spoon approximately 1/2 cup of batter on buttered skillet. These pancakes cook best slowly.
Cook for about 3 minutes on each side. Serve warm and garnish with maple syrup and berries.
Notes
It is crucial that the melted coconut oil is warm as well as the milk when making the batter. Coconut oil seizes up when cold and will thicken the batter significantly, making it harder to spread and make a round pancake. 
Feel free to substitute other berries or whatever fresh fruit is in season.
© 2023 World Spice Merchants https://www.worldspice.com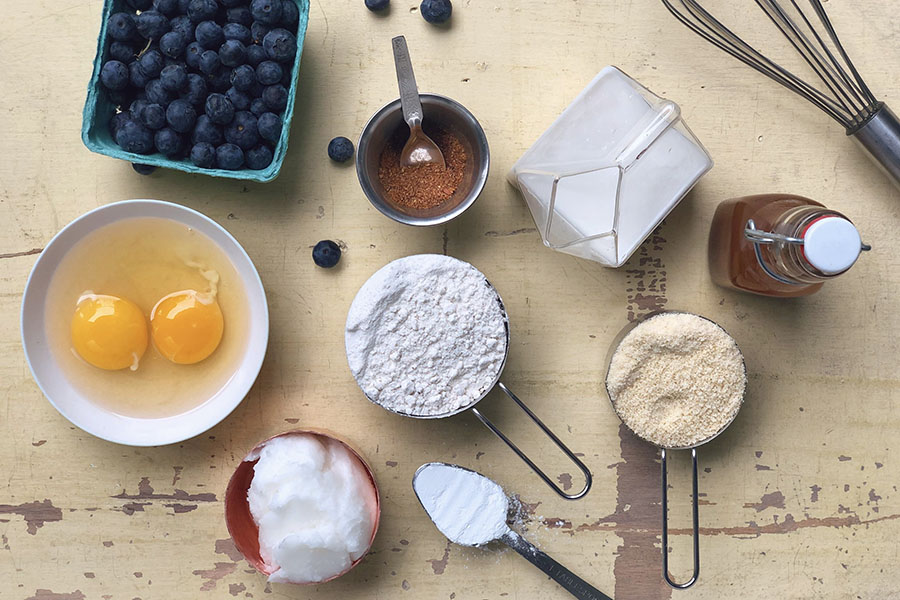 A few pro tips:
For busy (or lazy LOL) parents, you can mix a big batch and keep in the fridge for several days. Just add a little more liquid each time so the batter softens up and you're good to go!
When you make a batch, make a few extra to have on hand as grab and go snacks for hiking or packing lunchboxes.
And for the campers and picnic-ers, mix the dry ingredients in a bowl with a lid and the wet ingredients in a mason jar and you're set to go. Put the coconut oil in a tiny mason jar and you can use it to hold any bacon grease (if you go full classic American breakfast).