Besar Candied Yams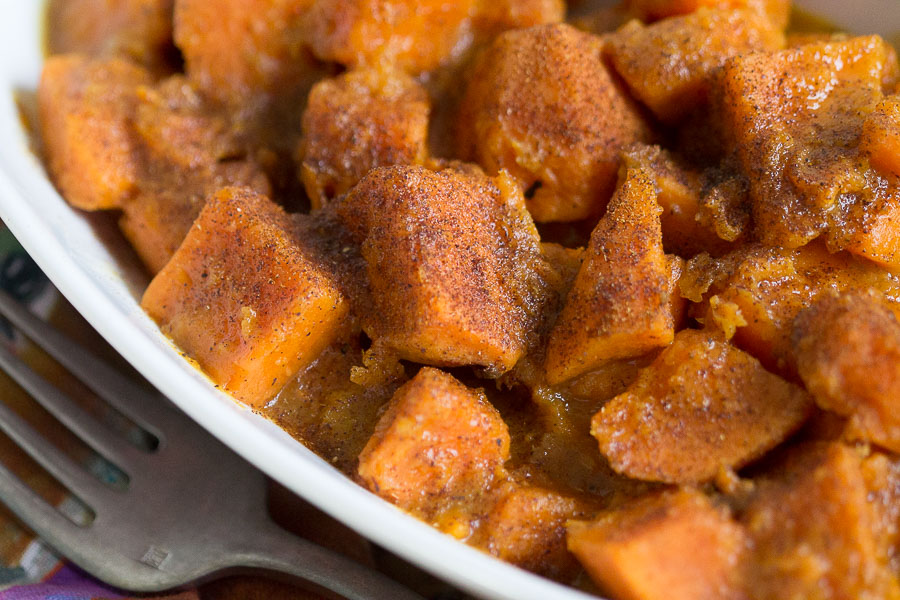 Orange juice and our Besar spice blend are delicious additions to classic candied yams. This bright and colorful side dish is simple to prepare and full of festive flavors. Don't get me wrong, I love marshmallows as much as the next sweet tooth, but I like to save mine for cocoa and s'mores. For these candied yams, gone is the cloying sweetness and in it's place you have a perfect pairing of orange and Besar. The spices in this blend are toasted, bringing out the richest flavors of cinnamon, coriander and fennel with hints of cumin and wisps of pepper and chile. The dish is easy to make and holds well, perfect for a Thanksgiving side dish. Since it is made on the stovetop you won't lose a minute of oven time. We kept it simple but you can add crunchy or colorful toppings like toasted walnuts or pomegranate seeds for a more festive presentation.
Ingredients
3 lb garnet yams, peeled and cut into 1-1/2-2 inch pieces
4 tablespoons butter
1 tablespoon Besar, plus a sprinkle for garnish
1/2 teaspoon kosher salt
1 1/4 cups brown sugar
2 cups orange juice
zest from 1 orange
Instructions
Bring a large pot of water to a boil, then add a pinch of salt and the yam chunks. Boil until the pieces are just fork tender, about 8-10 minutes. Be sure not to overcook.Drain and set aside.
In a large saute pan or Dutch oven, melt the butter over low heat, then add the Besar and salt. Maintain low heat for a minute to allow the spice flavors to infuse into the fat.
Add the brown sugar, orange juice and zest, and bring the mixture to a boil, stirring to remove any brown sugar lumps.
Transfer the drained yams into the pot and stir to coat. Cook over medium heat until the liquid is reduced to a thin syrup and the yams are cooked through, about 10-15 minutes more. The syrup will get a bit thicker as it cools.
Serve warm.
Notes
Be sure not to overcook the yams during the first stage Many thanks to Hank Shaw, his Mom, and the folks at Simply Recipes for this inspired recipe, adapted with our own holiday flavors 🙂

© 2023 World Spice Merchants https://www.worldspice.com