Carrot Cake with Kashmiri Garam Masala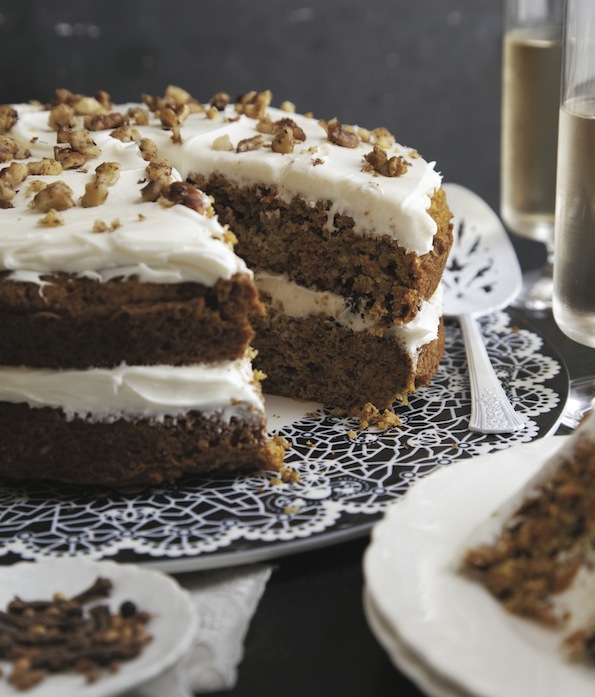 Sometimes change is good—and in this case the flavor is what's new. Fans have deemed this the best carrot cake they've ever had! Serving a favorite dessert that is known and loved, like carrot cake, with a new twist is the joy of exploring with spice. Kashmiri Garam Masala lends roasted spice flavors of pepper, cardamom, and clove to this classic preparation, and the coconut oil adds wonderful moisture and a velvety texture.
Ingredients
For the cake:
2 cups all-purpose flour
2 teaspoons baking soda
2 teaspoons baking powder
1 teaspoon kosher salt
2 tablespoons ground Kashmiri Garam Masala
4 large eggs
½ cup granulated sugar
½ cup brown sugar
1½ cups coconut oil, melted
3 cups grated carrots
1½ cups chopped walnuts or pecans, plus more for garnish
For the frosting:
½ cup unsalted butter, at room temperature
8 ounces cream cheese, at room temperature
1 cup confectioners' sugar, sifted
2 teaspoons pure vanilla extract
Instructions
Preheat the oven to 350 degrees F. Line two 9-inch round cake pans with greased parchment paper.
To make the cake, in a large bowl, combine the flour, baking soda, baking powder, salt, and garam masala.
In a large bowl, whisk together the eggs and sugars. Add the melted coconut oil and whisk 1 minute more. Using a spatula, gently fold in the flour mixture. Fold in the carrots and walnuts. Fill the cake pans with equal portions of the batter and bake for 30 minutes, or until the tops of the cakes spring back to a light touch. Cool in the pans on a wire rack for 5 to 10 minutes, then remove the cakes from the pans and allow them to cool completely.
To make the frosting, in a stand mixer fitted with the paddle attachment (or a large bowl with an electric mixer), beat together the butter and cream cheese until smooth. Add the confectioners' sugar and vanilla and continue mixing until the frosting is thick and smooth. You can adjust the consistency by adding a little milk if it is too stiff, or more sugar if it is too runny.
We recommend a rustic presentation for this cake, so frost only between the layers and on top, leaving the beautiful colors and texture visible on the sides. Garnish with chopped nuts and serve.
© 2023 World Spice Merchants https://www.worldspice.com
*(c)2014 By Amanda Bevill and Julie Kramis Hearne. All rights reserved. Excerpted from World Spice at Home: New Flavors for 75 Favorite Dishes by permission of Sasquatch Books.