Easy DIY: Spiced Hot Fudge Sauce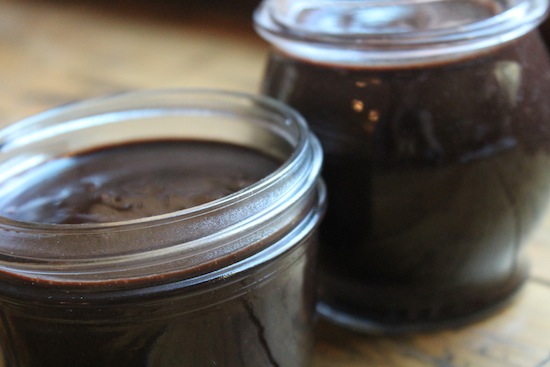 Want an easy DIY  project that you can take from start to finish in under an hour? This is your post. But beware! Once you start gifting this hot fudge sauce you won't be able to stop… my sister has been asking for it every holiday since 2004. Our favorite formulation combines bittersweet chocolate with Kashmiri Garam Masala and uses maple syrup as the sweetener, but you can switch up the spice and sweetener in all kinds of creative combinations. Chinese Five Spice with agave nectar is another one of our favorites. A decadent dose of sweet and spice will make your holiday extra nice. This recipe makes 2 cups, but double up if you want to make more for gifts.
Ingredients
2/3 cup heavy cream
1/4 cup Valhrona cocoa powder
1/2 cup dark amber maple syrup
1/4 teaspoon salt
6 oz bittersweet chocolate, finely chopped
2 tablespoons unsalted butter
1 teaspoon vanilla extract or puree
1 1/2 teaspoons finely ground Kashmiri Garam Masala
Instructions
Pour the cream into a heavy saucepan over low heat. Sift in the cocoa powder to remove any clumps and whisk together until smooth.
Increase the heat to medium, and stir in the maple syrup, salt and chopped chocolate. When the mixture begins to bubble, reduce the heat to low and cook, stirring occasionally for about 5 minutes. Remove from heat.
Sift in the finely ground spices, and stir in the butter and vanilla. Continue stirring until the butter is melted and spices are mixed in.
Allow the sauce to cool slightly and transfer to airtight jars for storage. Reheat before serving.
© 2023 World Spice Merchants https://www.worldspice.com