Chinese Five Spice Fudge Pops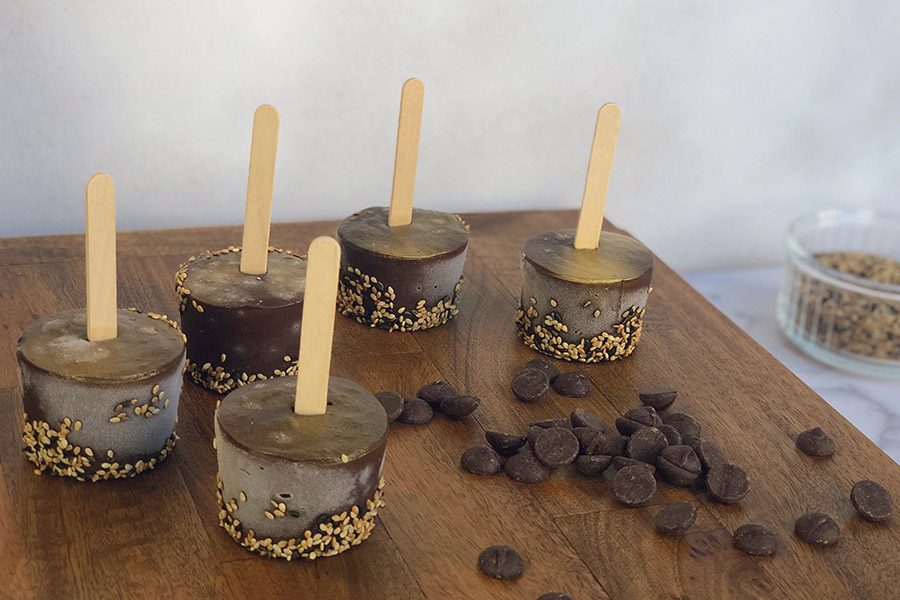 Make these fun and flavorful fudge-pops for any occasion, they are a festive treat! Chinese Five Spice is sweet with fennel and star anise and sassy with cloves and Sichuan pepper. Cinnamon is the fifth ingredient and when you bring it all together with dark chocolate it's a match made in heaven. The base comes together easily on the stovetop and we used small paper cups for the molds. You can decorate with toasted sesame seeds and gold luster dust like we did, but there are so many options! Try chopped peanuts, sprinkles or toasted coconut. Tiny but mighty in flavor, these creamy pops will satisfy your sweet tooth and are fun to make.
Ingredients
1/2 cup 62% dark chocolate chips
2 tablespoons unsalted butter
3/4 cup granulated sugar
1/4 cup Valrhona Cocoa
1/4 teaspoon kosher salt
2 cups whole milk
2 tablespoons cornstarch
1 teaspoon Chinese Five Spice, ground
For the Garnish
Instructions
Set aside eight, 3oz paper cups and popsicle sticks.
In a medium saucepan over low heat, melt the dark chocolate chips with the butter. Add the granulated sugar, Valrhona cocoa powder, salt, whole milk, cornstarch, and Chinese Five Spice. Whisk well to combine.
Raise the heat to medium low and cook until thickened, whisking constantly. About 5-6 minutes.
Remove the pudding from heat. Ladle the pudding into the paper cups and allow to cool for 20 minutes. After the pudding is set transfer the fudge pops to the freezer. Freeze for at least two hours or until half frozen.
Place popsicle sticks in the center of each fudge pop and return to the freezer until solid, 6 hours or overnight.
To remove the molds, cut a half inch slit on the lip of the cups with a pair of scissors and carefully peel off paper cups and discard.
For the Garnish
In a small bowl mix both sesame seeds until combined. Dip the pops in sesame seeds and press gently to coat. Enjoy immediately or keep frozen for future treats.
© 2023 World Spice Merchants https://www.worldspice.com