Kashmiri Garam Masala Pecans
Sometimes I just like to have fun with my food, and this recipe is a direct result of a playful Sunday afternoon in the kitchen.  The delicate aromas wafted out of my kitchen window enticing neighbors to stop in and sample my latest creation.  These little yummies will astonish and delight. A divine blend of cassia, cloves, cardamom and black pepper mixed with a sweet, salty, crunchy combo…trust me, you'll double the batch the second time around.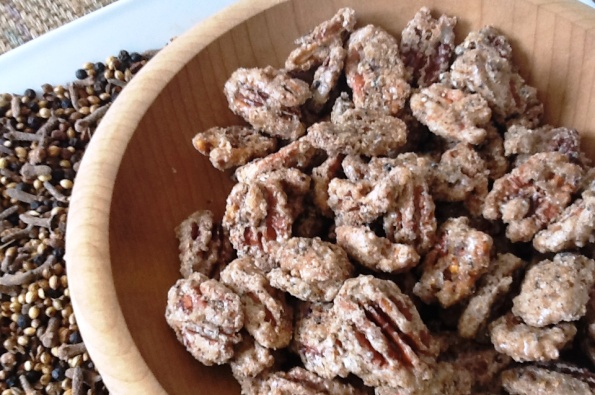 Ingredients
½ cup granulated sugar
¼ cup water
1 tablespoon butter
2 cups pecan halves
½ teaspoons salt
3 tablespoons ground Kashmiri Garam Masala
Instructions
Preheat oven to 350.
In a medium saute pan, combine sugar, water and butter. Bring to boil and stir gently to dissolve sugar.
Add pecans halves and toss to coat. Cook over medium-high until sugar has thickened and coats nuts.
Add salt and Kashmiri Garam Masala. Toss to combine.
Place nuts on a parchment-lined baking sheet. Bake for 6-8 minutes, until lightly toasted.
Cool completely. Nuts will become crunchier as they cool.
© 2022 World Spice Merchants https://www.worldspice.com