Mayan Cocoa Frozen Custard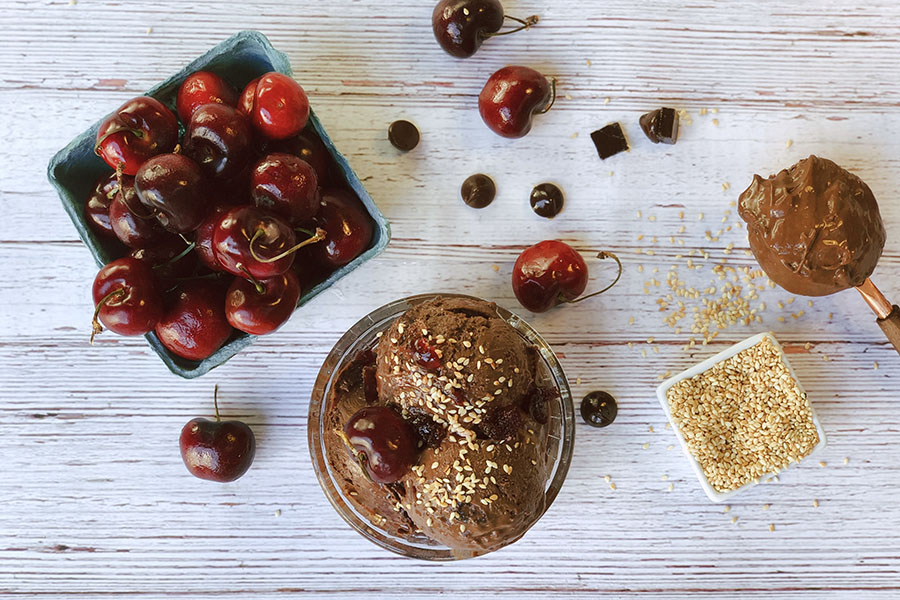 Frozen custard is luscious, silky, and decadent. When it melts, its creamy richness cools you off as you enjoy the explosion of chocolate flavor. In this recipe, we used our Mayan Cocoa which not only makes a tasty drinking chocolate but also a seasoned custard with warm spices like true cinnamon, allspice, anise and ancho chile flake for a kick. To transport us to a chocoholic's paradise, we melted dark chocolate and swirled cherries into the custard to give brightness. Making ice cream is an experience, and this one will make you guilty of constantly taste testing. Give this base a quick spin in an ice cream machine and enjoy it with a sprinkle of toasted sesame seeds.
Ingredients
2 cups half and half
1 cup milk
3 tablespoons agave syrup
1/2 teaspoon salt
1/2 cup brown sugar
1 cup or 7 ounces dark chocolate chips
1/2 cup Mayan Cocoa
6 egg yolks
1 cup cherries, rough chopped
3 tablespoons sesame seeds
Instructions
In a medium sized saucepan add the half and half, milk, agave, salt and brown sugar. Heat the mixture to a low simmer and add the chocolate chips and take the pan off of the heat.
Stir the chocolate until completely melted. Once melted vigorously stir in the egg yolks and Mayan Cocoa. Meanwhile have a large bowl with a fine mesh strainer handy and set to the side.
Place the pan back on the stove and turn it to the lowest setting. To prevent the mixture from curdling and not overheating, whisk the mixture continuously for 5-6 minutes, until the mixture starts to slightly steam and thicken. Take the custard off of the heat once it reaches a runny pudding consistency, immediately pour the custard through the fine mesh strainer and push all of the liquid through using a rubber spatula. Discard the Mayan Cocoa solids.
Let the custard cool for 2 hours in the fridge. Once completely cooled, spin in the ice cream machine for 25 minutes. Fold the cherries in before freezing frozen this custard overnight, evenly distributing the cherries into the custard. Serve custard with a sprinkle of toasted sesame seeds for crunch.
© 2023 World Spice Merchants https://www.worldspice.com