Huckleberry Gravy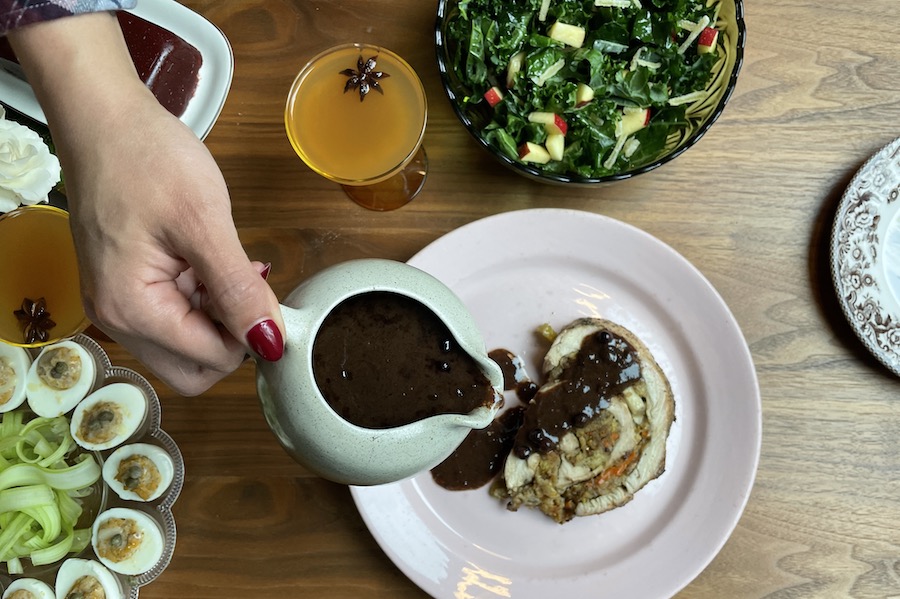 Thickening the gravy can be a hit or miss pinch point on a feast day and this reduction takes the stress out but keeps the flavor in. Once it is simmering, you can leave it largely unattended until the flavors cook down to your desired consistency. Huckleberry Gravy has been a Montana family favorite for years but you can achieve the same jammy results with blackberries or your favorite foraged fruit.
Ingredients
1 tablespoon butter
1 shallot, minced
2 teaspoons fresh thyme
2 quarts turkey stock
1/2 teaspoon cracked black pepper
1/2 teaspoon kosher salt
1 bay leaf
2 tablespoons balsamic vinegar
2 tablespoons honey
1-1/2 cups huckleberries, divided
Instructions
In a heavy bottomed saucepan over medium heat, melt the butter and add the shallot. Sweat the shallot for a few minutes. Add the remaining ingredients, reserving 1/2 cup of huckleberries.
Bring to a boil, then reduce heat slightly and continue cooking at a gentle boil until the gravy is notably reduced and thickened. When the volume is about 2 cups, remove from heat and add the remaining huckleberries. Adjust seasonings to taste.
Notes
Blackberries are a good substitute for huckleberries in this gravy, and you may choose to leave the seeds in or strain them out.
© 2023 World Spice Merchants https://www.worldspice.com