Juniper Pelmeni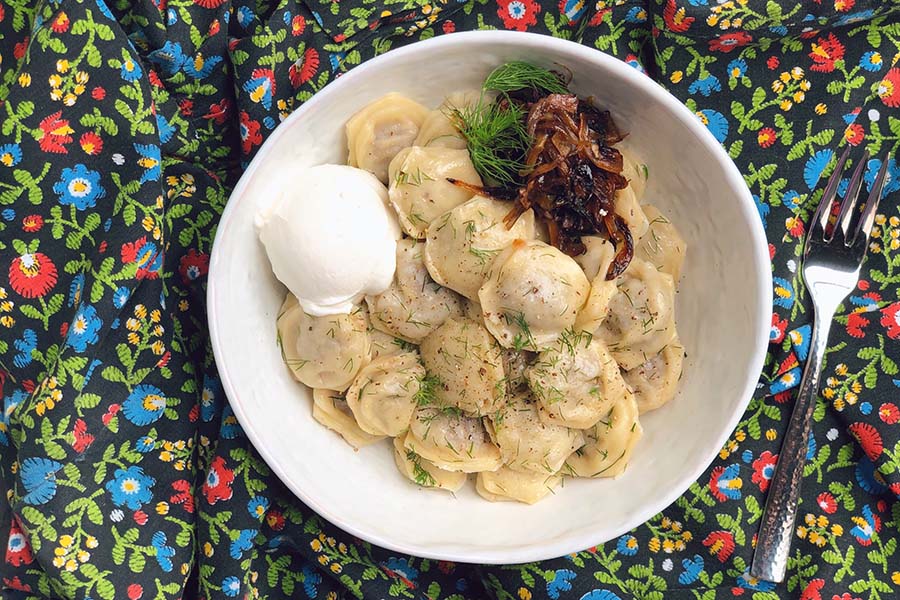 What are Pelmeni? These little morsels are Russian dumplings, typically filled with simple ingredients and formed into a tortellini-like shape. Combinations of meat are the most common fillings, with mushrooms, cabbage, tomato and horseradish sometimes making an appearance. Pelmeni are typically shaped by hand, but we thought the twelve dollar pelmeni mold we bought was well worth the price.
We opted for a pork and bison filling for these pelmeni, which we seasoned with Juniper for an intriguing counterpoint to the rich, savory flavors of the meat. Juniper is piney, sweet and fragrant – everything you want this time of year. We garnished our pelmenis with caramelized sweet onions, sour cream and fresh dill to complete the dish.
Ingredients
Dough
3-1/2 cups all-purpose flour
1 teaspoon Kosher salt
1 egg
1 cup milk
Filling
1 tablespoon vegetable oil
1 cup onion, small diced
2 teaspoons garlic, minced
1/2 lb ground pork
1/2 lb ground bison or beef
1/2 teaspoon Tellicherry black pepper
3 teaspoons Kosher salt
2 teaspoons juniper, ground
Garnish
2 tablespoons butter
2 teaspoons dill weed, chopped
caramelized onions, to taste
sour cream, to taste
Instructions
Dough
In a stand mixer, add the flour and salt and mix with the hook attachment. Add the egg and gradually add the milk until dough ball is formed. About 3 minutes. It should be very elastic. Wrap the dough and set aside for 30 minutes before use.
Filling
In a small saute pan, add the oil. When hot, add the diced onions and minced garlic. Cook them until translucent.
In a medium-sized bowl, combine the two meats, sauteed onion/garlic, black pepper, salt and juniper. Mix until all incorporated, then chill in the fridge.
Assembly
Fill a large pot with 3 quarts of salted water and bring to a boil.
After dough has rested, tear off a dough ball the size of a tangerine and, on a floured surface, roll dough thin enough to completely cover the pelmeni mold. Lightly flour both sides of the pelmeni mold, then drape dough on it.
Remove meat filling from refrigerator, and fill each pelmeni pocket with a teaspoon of filling. Roll out another thin sheet of dough and cover the pelmeni.
Using a heavy rolling pin, roll the top sheet of dough so that the two bind together.
Peel off the edges and flip the mold over. Don't over stuff the pelmeni or they will be hard to pop out of the mold.
Repeat process until out of dough and filling.
Drop pelmeni into boiling water and give them a stir so they don't stick. Boil for 4-5
minutes or until the pelmeni float.
Strain pelmeni in a colander and toss in a bowl with butter and dill.
Garnish each serving with sour cream and caramelized onions to taste.
Notes
Feel free to freeze extra pelmeni. 
© 2022 World Spice Merchants https://www.worldspice.com