Moroccan Watermelon Cooler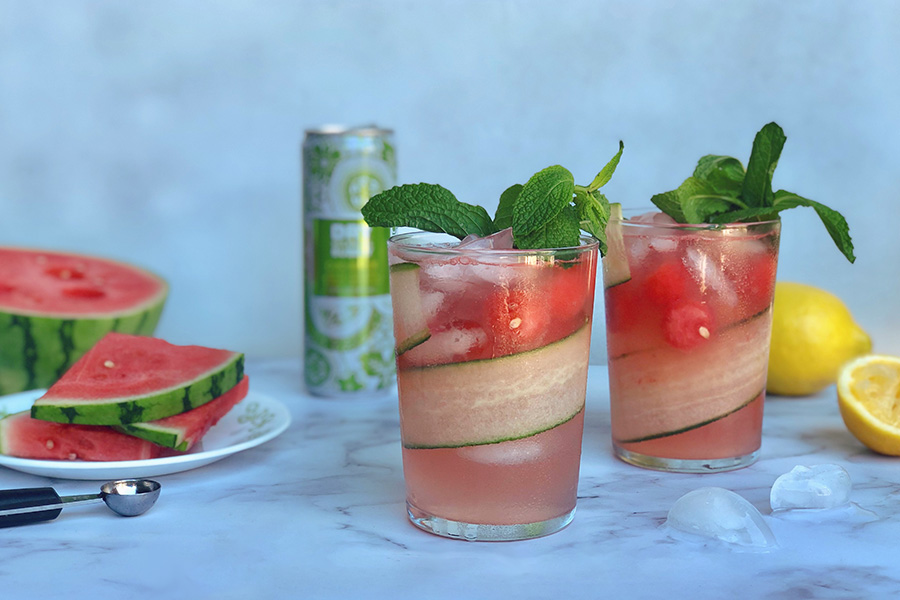 Temperatures are skyrocketing this summer. The Northwestern heatwave has us all trying to beat the heat in every way possible. This refreshing, thirst-quenching summer beverage has instantly become our new favorite. Our Moroccan Mint Tea is a combination of peppermint and Gunpowder green tea — and tastes incredible as the base in this cooler. Hydrating watermelon, fresh cucumber, and tart lemon complement the tea perfectly. Add a splash (or two) of vodka and you've got a delicious, rejuvenating drink. Cheers to keeping cool!
Ingredients
Moroccan Mint Tea
2 tablespoons Moroccan Mint Tea
1 cup hot water at 190 degrees
1 tablespoon white sugar
Cooler
2 cups watermelon, chopped
2 ounce lemon juice
1 cup Moroccan Mint Tea
3 ounces Vodka
DRY® cucumber soda
Garnish
Ice
Watermelon, balled
English cucumber, cut lengthwise with "Y" peeler
Fresh mint
Instructions
Moroccan Mint Tea
Add the tea to hot water, steep for 2 minutes then strain, sweetening to taste. Cool tea completely before making cocktail.
Cooler
Add the chopped watermelon to a cocktail shaker and muddle until crushed and juicy. Add the lemon juice, Moroccan Mint Tea, vodka and ice. Shake vigorously for 20 seconds. Pour cocktail over ice and finish with 2 ounces of DRY® cucumber soda. Garnish with balled watermelon, English cucumber and mint.
© 2023 World Spice Merchants https://www.worldspice.com