Pacific Seafood Halibut Escabeche
The first of the season Alaskan halibut has arrived, and we are thrilled!  Considered the world's premium whitefish, first of the season halibut are the best quality because the fat content of the fish is at its absolute peak. To celebrate the arrival of this delicacy from the icy north, we created an escabeche using our Pacific Seafood.  This simple preparation is a luscious showcase of some of  spring's first fresh flavors.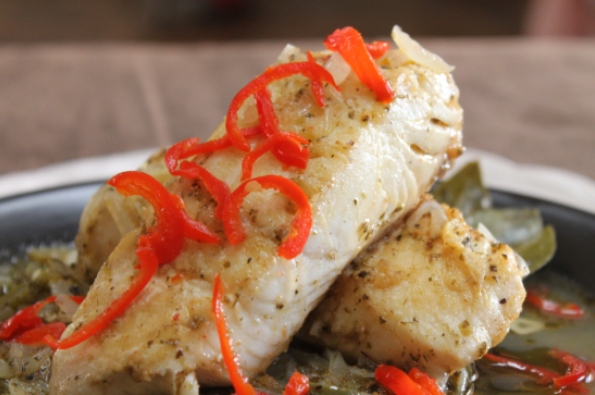 Ingredients
3 halibut steaks, about 7-8 ounces each, 1/2 inch thick
1 cup extra-virgin olive oil
1 medium sweet onion, thinly sliced
4 large garlic cloves, thinly sliced
3 jalapenos, seeded and thinly sliced
1-1/2 tablespoons Pacific Seafood
3/4 cup distilled white vinegar
Instructions
Heat 1/2 cup olive oil in a 12-inch nonstick saute pan over medium heat. When hot, add the halibut steaks and saute until golden, about 2-1/2 minutes per side.
Remove from pan and transfer to a dish large enough to hold all of the halibut in a single layer. Set aside.
Using same oil and saute pan, saute onions, jalapenos, bay leaves and peppercorns until they are almost soft, about 4 minutes. Add Pacific Seafood and saute for another minute until the onions and jalapenos are completely softened. Stir in vinegar and cook at a simmer for about 5 minutes.
Pour mixture over the cooked halibut, being sure to spread over and around the halibut. Top with remaining 1/2 cup of olive oil and serve at room temperature.
© 2023 World Spice Merchants https://www.worldspice.com