Pakistani Curry S'mores with Toasted Cumin Marshmallows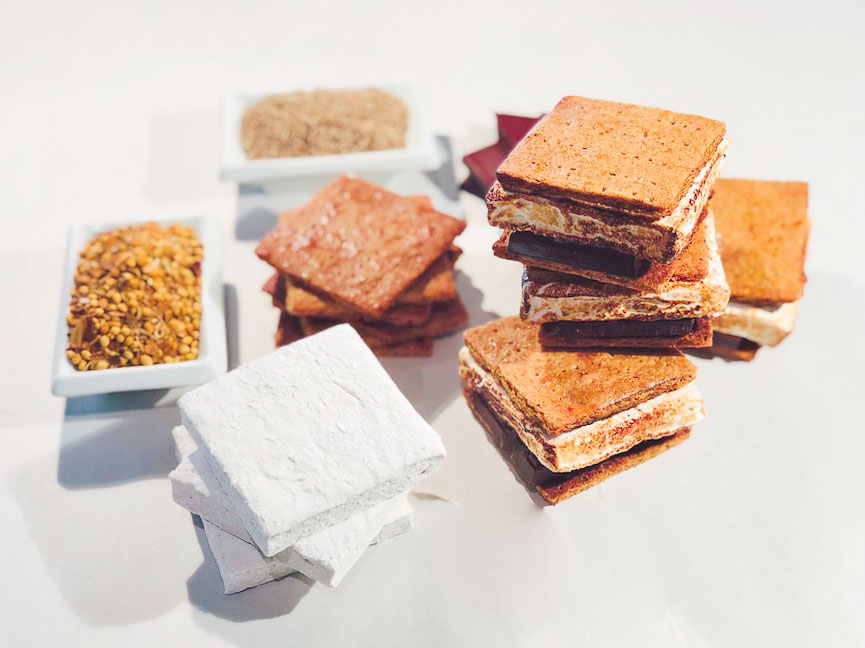 These S'mores add a global flavor twist to an old favorite. The hints of savory complement the sweet with mild Pakistani Curry in the graham cracker and toasted cumin in the marshmallow. They smell amazing and are a great activity around a camp fire. Charring and roasting the marshmallows brings out the toasted cumin flavor. If the outdoors aren't your thing you can achieve the same result at home using a blow torch to impress your friends.These marshmallows work with more than S'mores, use them to top your favorite cocoa or mocha, or even sweet potato casserole. This unique spin on marshmallows is fragrant, slightly savory and will add depth of flavor to your favorite recipes.The staff favorite used orange dark chocolate in the S'mores but the possibilities are endless. Once you master the toasted cumin marshmallow and Pakistani Curry graham crackers you will be able to substitute them in all your favorite treats.
Ingredients
Toasted Cumin Marshmallows
3 packages unflavored gelatin, 1/4 ounce
1/2 cup COLD water
1-1/2 cups granulated sugar
1 cup light corn syrup
1/4 teaspoon kosher salt
1/2 cup room temperature water
1 tablespoon pure vanilla extract
1/2 cup powdered sugar (for dusting)
1/2 cup corn starch (for dusting)
2 tablespoons ground toasted cumin
Pakistani Curry Graham Crackers
2-3/4 cup of all purpose flour
1 teaspoon vanilla extract
1/2 teaspoon baking powder
1 teaspoon baking soda
3/4 cup coconut oil
1-1/2 cups brown sugar
1 teaspoon of salt
7 oz of Coco Lopez Cream of Coconut, half can
1 egg
6 tablespoons ground Pakistani Curry
1 egg + 1 tablespoon of water, whisked for egg wash
Instructions
To make Marshmallows:
Combine the gelatin and 1/2 cup of cold water in the bowl of an electric mixer fitted with the whisk attachment and allow to sit while you make the syrup.
Meanwhile, combine the sugar, corn syrup, salt, and 1/2 cup water in a small saucepan and cook over medium heat until the sugar dissolves. Raise the heat to high and cook until the syrup reaches 240 degrees on a candy thermometer, then remove from the heat.
With the mixer on low speed, slowly pour the hot sugar syrup into the dissolved gelatin. Put the mixer on high speed and whip until mixture is very thick, about 15 minutes. Add the vanilla and ground toasted cumin, mixing thoroughly.
In a small bowl, combine the powdered sugar and cornstarch.
With a sieve, generously dust an 8 by 12-inch baking dish with the powdered sugar/cornstarch mixture. Pour the marshmallow mixture into the pan, smoothing the top, and dust with the powdered sugar/cornstarch mixture. Allow to stand in the fridge uncovered overnight until it dries out.
Turn the marshmallows onto a board and cut them into desired shape. Dust them with more of the powdered sugar/cornstarch mixture.
To make Graham Crackers:
In a large bowl mix together all of your wet ingredients; 1 egg, coconut oil, Coco Lopez, vanilla until combined.
Then add brown sugar, salt, Pakistani Curry, baking soda, baking powder and flour and stir to combine. Divide the dough into two balls, and wrap individually in plastic wrap. Chill dough in refrigerator for at least 10 minutes, to make it easier to roll.
Meanwhile, in a small bowl mix 1 egg with a tablespoon of water and whisk with a fork to make an egg wash.
Cut two large pieces of parchment paper big enough to roll the dough in between. Once dough is chilled, place one dough ball between the parchment paper and roll to 1/8" thickness.
Transfer your sheet of cookie dough with the parchment underneath to a baking sheet. Peel the top piece of parchment. Brush your sheet of cookie dough with egg wash. This will make your graham crackers slightly shiny and add crunch, too.
Bake at 360 for 11 minutes. The graham cracker sheet might need a couple minutes more depending on the oven. You don't want too much color on them, but you do want them to dry out so that they become crisp like a graham cracker.
Once you take then out of the oven work quickly and stamp of your cookies with your cookie cutter or use a knife and make whatever shape desired. Its important to do this while your dough is hot. For decoration you can poke holes on top of the cookies with a fork. Once your graham cracker sheet is cooled you can break them apart like a traditional graham cracker, and make your s'more.
© 2023 World Spice Merchants https://www.worldspice.com