Tagged With:
Fennel Pollen
Recently, Holly admitted her powerlessness over the char grilled prawns at the West Edge's favorite eatery, Lecosho. She recommended following the dish with this fantastic cardamom olive oil cake for dessert, and my ears perked right up.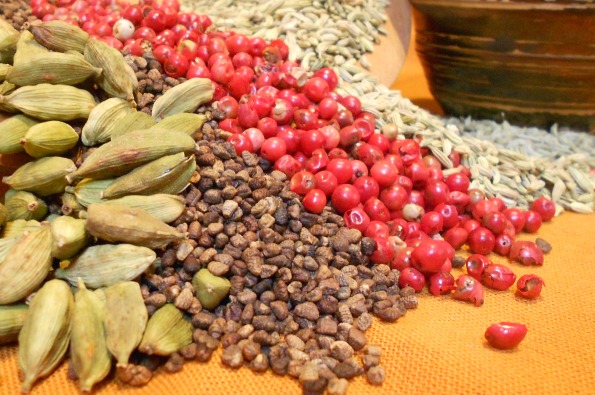 Now as a Sicilian, when you say "olive oil," I say "more!" So I called over to beg pastry chef Andrea for her recipe and she graciously gave it up. The Ranier cherries that she serves with it are at the end of their season now, but don't let that stop you from attempting this cake! Try a few slices of Northwest pear, poached in wine and sugar, or a few cubes of caramelized pumpkin, roasted until soft to garnish. This cake is heavenly with freshly ground cardamom, but is also a brilliant vehicle to feature any number of exotic spices- try pink peppercorns, saffron, fennel (or fennel pollen!) or anise seed, paired with a different flavors of gelato.
A word on the recipe itself: "Real deal" bakers and pastry chefs weigh their ingredients, much like we weigh our spices here in the shop. Weighing provides far more consistent and accurate measurements, which is why we choose to sell our spices that way, too. I left Chef Andrea's original weights in the recipe in case you're in possession of a gram scale, but also translated them to the more commonly used volume measurements for the average home cook, too.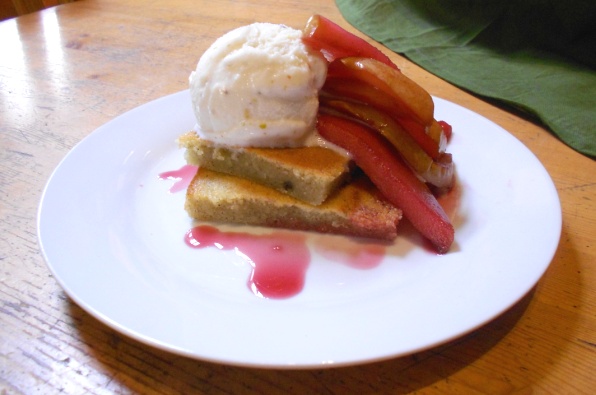 Chef Andrea's Cardamom Olive Oil Cake
Ingredients
290 grams all-purpose flour (2 1/3 cups)
6 grams baking powder (1 1/2 teaspoons)
4 grams Utah Basin salt (1 scant teaspoon)
2 eggs
316 grams sugar (1.5 cups plus 1 tablespoon)
2 cups whole milk
2 cups olive oil- pomace, or a mild-tasting extra virgin
Freshly ground cardamom seed, to taste (~2 tablespoons, for us)
Instructions
Preheat oven to 325 F if you've got a convection oven, 350 F for standard.
Line a half sheet tray (for the home cook, a full-sized jelly roll pan) with parchment paper, and grease it liberally with olive oil or non-stick spray.
Cream sugar and eggs to ribbon stage.
Sift together the dry ingredients, and set them aside.
Combine the olive oil and milk (they won't incorporate, but this is okay).
With a stiff rubber spatula, add the dry ingredients and milk/olive oil mix to the creamed sugar and egg mix in alternating thirds- that is, 1/3 of the dry ingredients, mix, 1/3 of the milk/oil, mix, repeat until all ingredients are just incorporated.
Add your desired amount of freshly ground cardamom.
Pour into the prepared pan, and spread until even.
Bake for 20 minutes, or until the edges are golden brown and a toothpick inserted in the center comes out clean. If you're not using a convection oven, turn the cake pan halfway through baking.
Allow the cake to cool on a wire rack.
To serve as they do at Lecosho, top with a scoop of almond gelato (Chef Andrea makes her own, but we love Procopio!) and pile of pitted local Rainer cherries, mascerated in just a bit of sugar. Enjoy!
https://www.silkroaddiary.com/chef-andreas-cardamom-olive-oil-cake/
World Spice Merchants https://www.worldspice.com
Categories:

Course, Holiday, Recipes, Sweet Somethings
Tags:

autumn, cardamom, cherries, easy dessert, Fall, Fennel Pollen, Lecosho, pears, pink peppercorn, pumpkin
5 Comments
We spice merchants can be somewhat skeptical of the latest culinary fad, so it was with a fair degree of cynicism that we greeted our first shipment of fennel pollen. However once we tasted this particular pollen, sourced from wild fennel plants on the hills of California, we were enthusiastic converts.
The particles are sunshine yellow in color, with a texture between fluffy and sandy. When eaten, the fennel intensity is unmatched, and comes in tandem with a candy sweetness- pungent, yet still somehow elusive. Much like pairing wines with food, different flavor nuances arise as the pollen is paired with different dishes. Curry notes, licorice tones, or the flavor of dark, muscovado sugar crystals have all been reported by our flavor experts here in the shop.
To harvest fennel pollen is a labor-intensive pursuit, much like saffron, so this means even a tiny amount is expensive. Each fennel flower yields only about a quarter teaspoon of precious pollen, and if that weren't enough, the drying process is also tedious and finicky, requiring years of experience to master and perfect.
For as exotic as fennel pollen is, it's surprisingly easy to use. Plan on about a pinch per serving, and use it to garnish foods just before serving. A cream-based vegetable soup, like Jerusalem artichoke or sunchoke, would be transformed by a dusting of fennel pollen and a sprinkle of coarse salt, or a common potato or leek gratin could be made extraordinary with just a touch. The spice team is ever experimenting, so stay tuned for unique recipes to utilize this rare and exciting ingredient!