Gluten Free Fennel Ricotta Tomato Tart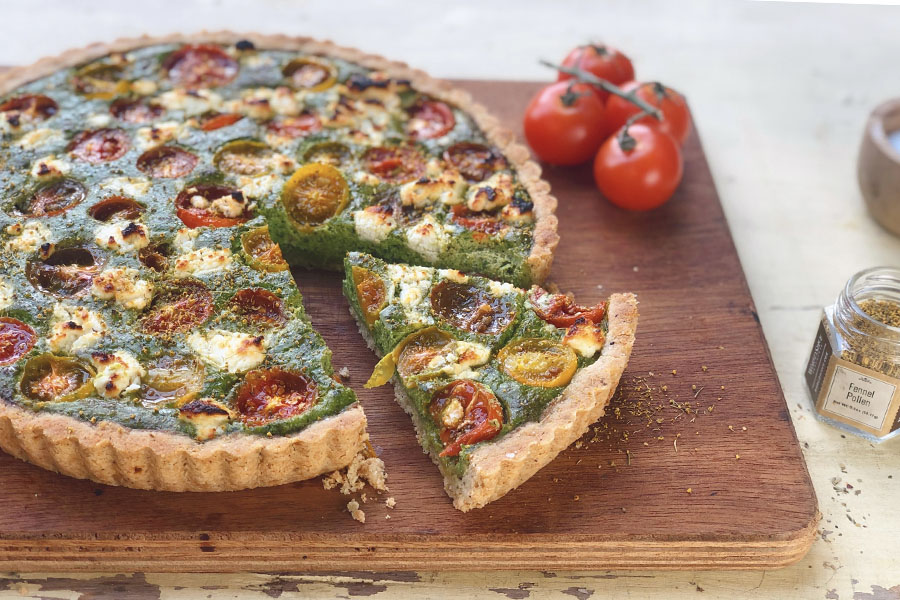 Every little bite of this delicious tart screams summertime. The beautiful, bright flavors and buttery crust can be enjoyed either hot or cold. The peppery, gluten-free crust requires no rolling. It comes together easily with parmesan cheese. We filled the tart with a spinach and ricotta mixture, seasoned with our Italian Sausage Mix. Don't let the name mislead you, there's no sausage to be found in this mix but rather kickin' red chile flakes, black pepper, fennel seed, basil, oregano, and other Italian classics.
To bejewel the tart, sprinkle some halved heirloom cherry tomatoes and little dollops of goat cheese. Bake this tart until golden brown. Make it extra special by sprinkling some fennel pollen before serving your wedge. Fennel pollen is delicate, sweet and fragrant and compliments the bursts of tomato perfectly.
Ingredients
Black Pepper Crust
2 cups Bob's Red Mill Gluten Free 1-to-1 Baking Flour
3/4 cup parmesan cheese, grated
1 teaspoon Tellicherry black pepper, ground
1 teaspoon kosher salt
2 eggs
1 cup unsalted cold butter, small diced
Ricotta Italian Herb Filling
1/2 cup heavy cream
1 cup ricotta
2 eggs
1/2 pound fresh spinach (reserve 1 handful)
2 teaspoons Italian Sausage Mix
1 teaspoon kosher salt
5 ounces heirloom cherry tomatoes, halved
1/2 cup goat cheese
1 teaspoon fennel pollen
Instructions
Preheat the oven to 350°F and prepare a 10-inch tart pan with pan spray and a 10-inch round of parchment paper for easy release.
In a stand mixer using the paddle attachment, mix together the flour, parmesan, black pepper and salt. Drop in the pieces of cold butter and mix on medium until the dough starts to come together. Add in the eggs and mix until combined, but not so much that the butter pieces completely blend into the dough.
Remove the dough from the stand mixer and pat the dough into the prepared tart pan. Use a flat bottom of a measuring cup for easy pressing of the dough. Using your hands pinch the dough into the edges of the pan. Create an even rim up to the edge of the pan.
Poke holes in the bottom with a fork to help prevent doming.
Place the tart pan on a sheet tray for easy transferring. Parbake tart dough for 25 minutes. Meanwhile make the ricotta filling.
Ricotta Italian Herb Filling
In a blender add the heavy cream, ricotta, eggs, most of the spinach, Italian sausage mix and salt. Blend until smooth. Once your tart has been par baked, sprinkle in the handful of unblended spinach and pour ricotta filling on top.
Decorate the tart with the halved cherry tomatoes, cut side facing up. The unblended spinach acts as support for the tomatoes so they don't submerge below the filling. Garnish the tart with large crumbles of goat cheese. Bake the tart at 350 for 30 minutes and broil for 4 minutes on high for color. Remove the tart from the oven and wait for it to completely cool to remove from the tart pan. Evenly sprinkle the fennel pollen on top and cut into wedges. Enjoy!
© 2023 World Spice Merchants https://www.worldspice.com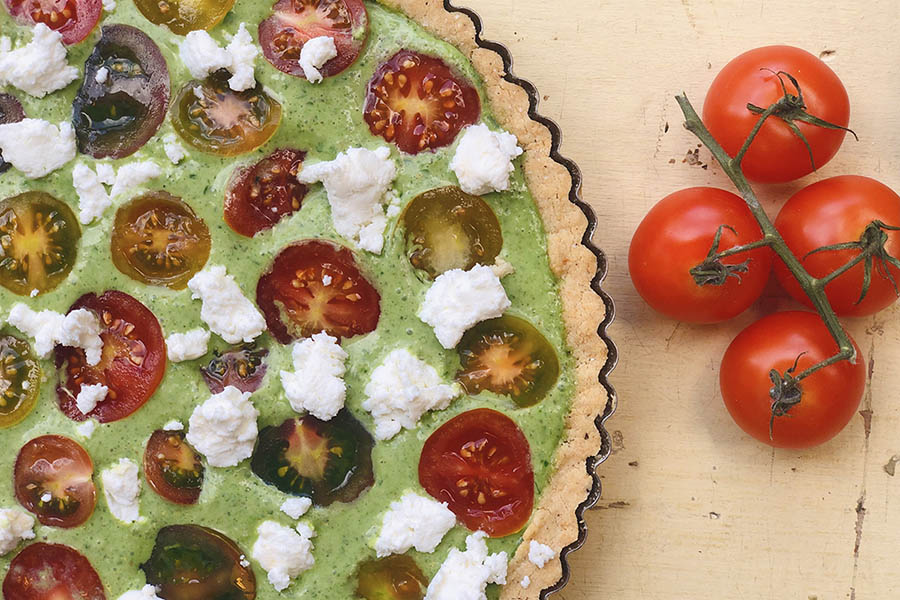 Be careful not to put the fennel pollen on before baking or if the tart is still very hot — its flavor is heat sensitive! One of our favorite things about fennel pollen is how the fennel flavor is so forward yet somehow light and delicate. It makes for an excellent garnish and an elegant flavor enhancement.