The Perfect Cup….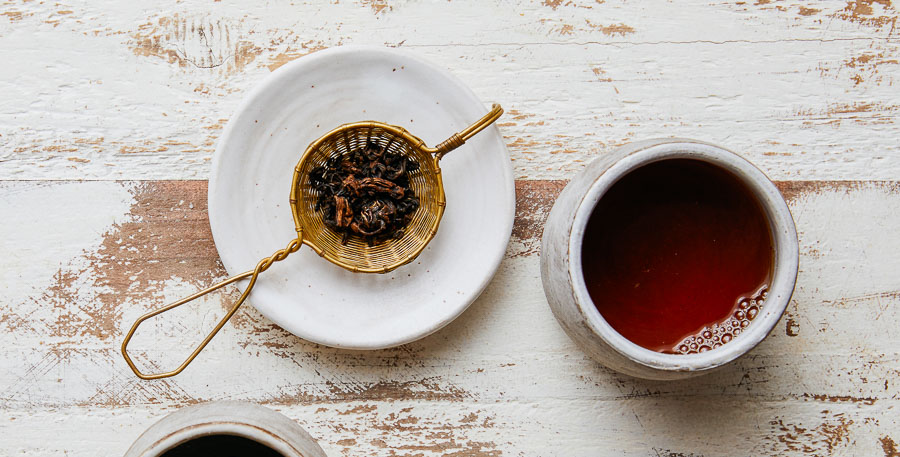 Tea is one of the most widely consumed beverages in the world, ceding the top spot only to water, and it's not hard to see why. There are many delicious varieties of tea, ranging in flavor from the most robust black to the mellowest green. With all that variety it's easy to find a good reason for a cup of tea, but it's not always easy to pick the right one.
All tea varieties- black, oolong, green and white- come from the same plant, Camellia sinensis, yet vary widely in terms of taste. The differences arise from when the tea is harvested and how the leaves are processed. Here are the primary characteristics, and a few choice examples, of each: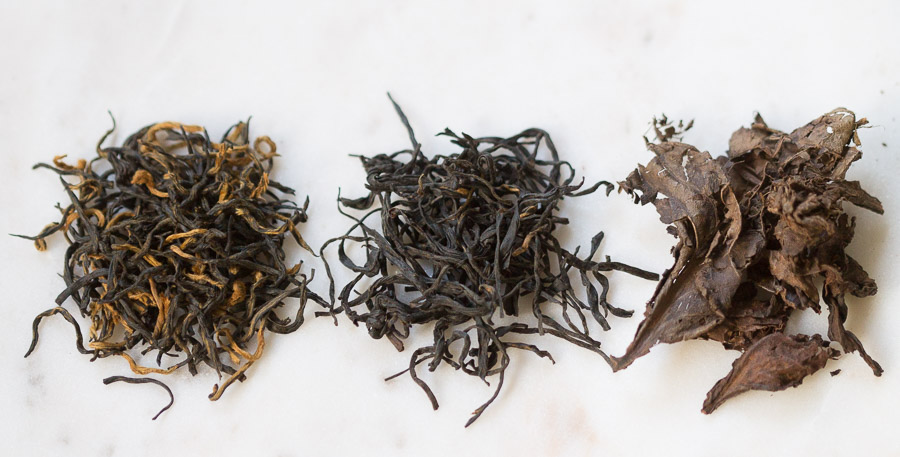 Black: Black teas have a strong, full-bodied taste. Malty, fruity, and smoky flavors predominate these robust teas.  Their warmth and body make them perfect for a morning pick-me-up, and they pair well with spices for chai. Black tea has the highest caffeine content of all the tea types.
Jorhat Estate Assam is a classic Indian black tea, with a strong malty character and hints of cherry fruitiness. Our favorite Chinese black tea is the Honey Orchid because it is both bold and delicate at the same time with good body and mild sweetness. For those seeking a broader range of flavors, Earl Grey is flavored with bergamot oil for a floral-citrus flavor, and Lapsang Souchong is a Chinese black tea which is pine-smoked for a deep smoky aroma and taste.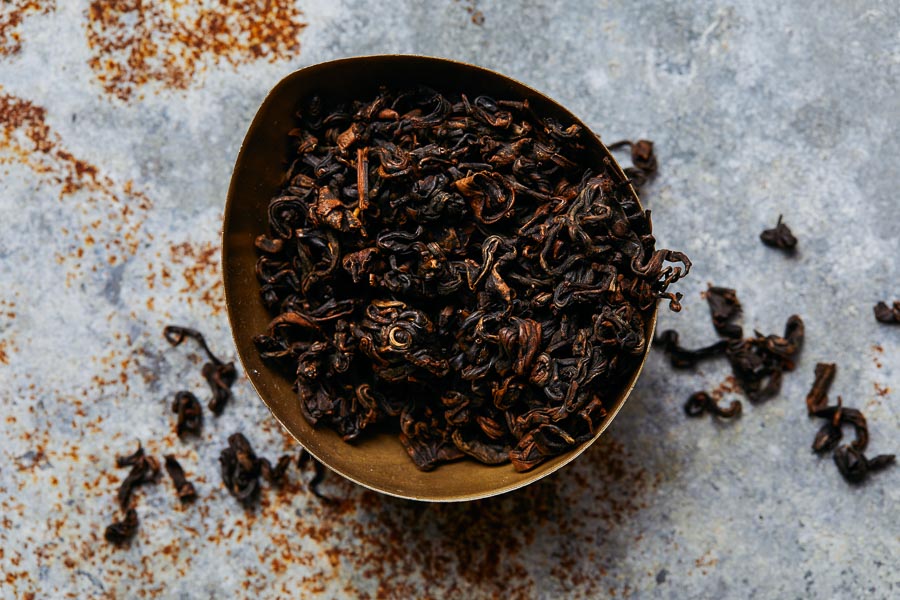 Oolong: Oolong teas possess some of the most complex and varying flavors of the tea world, and are not unlike wine in their diversity and nuance. These medium bodied teas fall into a flavor range between green and black teas, they can be sweet and fruity with honey aromas, woodsy and roasted, or green, fresh and floral in aroma.
Ti Kuan Yin is a popular oolong and is on the lighter side, with a mild floral flavor. This Phoenix Oolong  is a darker oolong, and has a spicy, toasty character with hints of fruit.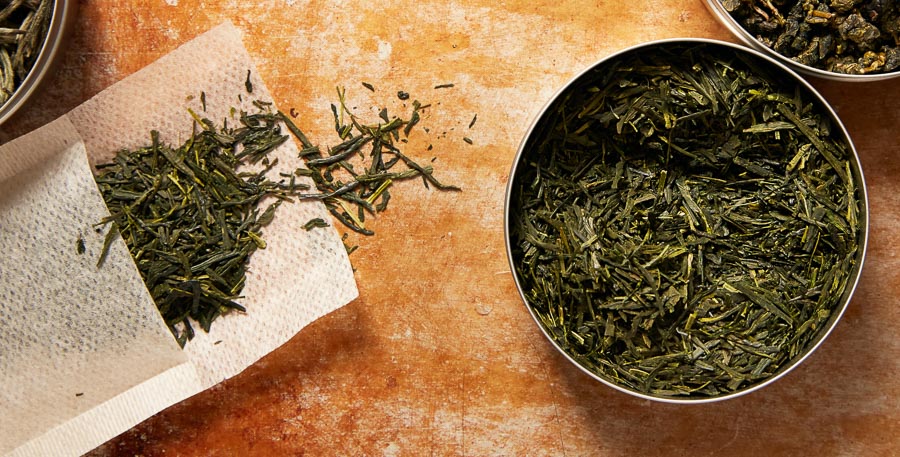 Green: Lighter than black and oolong teas, with a medium to light body and a clean fresh taste, green teas often present vegetal or floral flavors. Green teas are notably refreshing and energizing in nature and are often the first pick for health conscious consumers. Green teas have less caffeine than black and are high in anti-oxidants.
White: Only harvested from fresh buds in the early spring, white teas present a clear, delicate vegetal flavor similar to green tea but even lighter in body and taste. Like green teas, white tea offers a revitalizing lift in the cup.
Rose White Tea Sachet has a gentle grassy flavor, with the subtlest hints of rose.
How to brew the perfect cup:
Use Loose Leaf Tea: Loose leaf teas are the best choice, and since they do not come in tea bags must be strained before drinking. Premium tea leaves are always reserved for loose tea while the inferior leaves are relegated to the chopping block for bagged tea. You always get the best flavor with loose tea because the water is able to circulate freely around the leaves, bringing more flavor into your cup. Teapots, infusing mugs and simple strainers are all readily available to make brewing nearly as convenient as bags. This simple strainer is our favorite because it fits in a cup or pot and is easy to clean.
How Much Tea: The amount of tea you use controls the intensity of flavor in your cup. We recommend beginning with one teaspoon for every six ounces of water, for all types of tea. If you prefer a cup that is stronger or more mild, you can adjust the quantity of tea to your liking. This is better than steeping longer because a longer steep can add unwelcome bitterness. It is worth noting that adding more tea will also increase the amount of caffeine present in the brew.
Water Temperature: Always use full boiling water for black tea and below boiling for the other types. Green, white and oolong teas should use water ranging from 180 to 200 degrees because using water that is too hot will vaporize the more delicate flavors. Specific suggestions can be found for individual teas on our website, but a degree of imprecision is fine, too- the important bit is "boiling" vs. "jut below boiling." To get the right temperature you don't really need a thermometer, just pull the kettle off the heat just prior to boiling. If you've let it go a little too long, simply pour the water into the cup or pot before adding the leaves, this will allow it to cool slightly.
Steeping Time: Steeping time is also a consideration in brewing the perfect cup. As tea steeps, it releases tannins which give tea its bitter taste. If tea steeps for too long, the tannins can overpower the other flavors present in the tea, and allow it to become bitter. Conversely, not steeping the tea long enough will weaken the brew. For black tea, we recommend using a three to four minute steeping time. Oolongs and green teas should steep anywhere from one to three minutes, while white teas should steep for only one to two.
Green, white, and oolong tea leaves can often be steeped multiple times, with new flavors emerging each time. Everyone's tastes are different, so have fun experimenting and find which steeping of your favorite tea you like the best.
While all three T's (time, temperature, tea to water ratio) should be considered when brewing, any or all of them can be adjusted according to your personal tastes in order to brew the perfect cup of tea for you. That's it. Go forth and brew. Here are a few final tidbits to leave you with before you go.
Caffeine Content: Generally speaking, black tea has roughly one third the caffeine content of coffee, with oolong, green, and white teas containing less than black.
Milk and Sugar: The rich, malty flavors of black tea pair beautifully with milk or cream and a sweetener, but the delicate flavors of the other varieties will be overpowered by these additions. We recommend against adding milk or sweetener to green, white, and oolong teas.
Other Brews: While these represent the most common and classic types of true tea, Camellia sinensis, there is still more to explore. You can find out more about chai tea and herbal tisanes in our other blog posts.