We Grind To Order, Part 2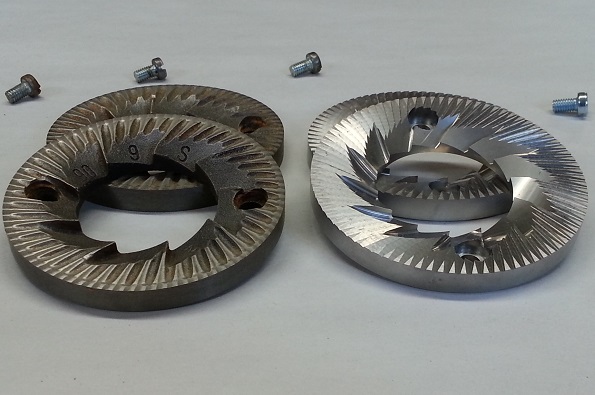 What do you do when one of Seattle's premier cheese makers needs a hundred pounds of ground black pepper? Or how about when everybody's favorite artisan salami shop needs twenty pounds of fennel cracked to just the right size?
Last week I talked about some options for grinding spices at home, but grinding the amount of spice some of our commercial clients use with a small blade grinder or a hand cranked burr grinder would take ages! Down at the World Spice Professional Division we're just as committed to providing fresh, ground-to-order spices as our counterparts at the World Spice retail store, so we've come up with the perfect solution: a re-purposed espresso grinder. By using a high quality Swiss Ditting espresso grinder, we have the ability to precisely control the coarseness of our grinds. Using a large mechanical burr grinder like this also allows us to grind large amounts of spice quickly while maintaining a nice even grind.
As you can see in the picture above, just a few months of use begins to wear down the burrs in our machine, requiring near constant resharpening and replacement. By constantly examining the results of grinding a small test run of cumin, we're able to know just when to ship the burrs back to the factory for professional resharpening to ensure that our clients are getting the highest quality grind around!