Biscayne Corn Chowder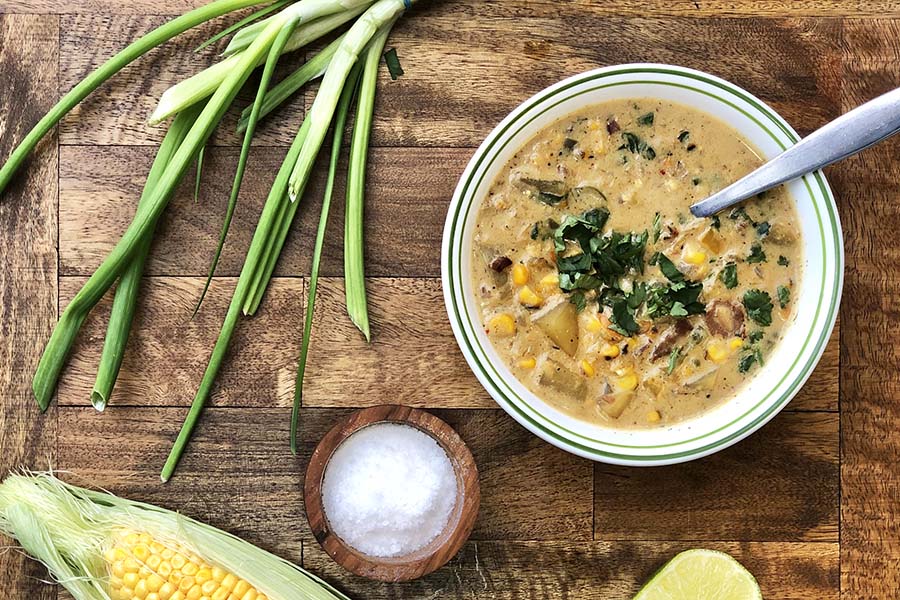 Bright and spicy, this corn chowder is bursting with Caribbean flavor. Our Biscayne Citrus Rub is featured here, packed with spices like thyme, oregano, chile flakes, and citrus peel to bring out the natural sweet flavor of the corn. Smoked ham gives this chowder a meaty flavor, and the corn is grilled to bring a bit of fiery flavor.
To get a perfect texture in this chowder, the ham and vegetables should be uniformly diced small. Cubes of about 1/4 inch work well. Aside from a bit of chopping, this dish is quick and easy to bring together. It's perfect as a side dish for a backyard summer bbq or a low-maintenance weeknight meal.
Ingredients
1/2 cup unsalted butter
1 cup smoked ham, diced
1/2 cup yellow onion, diced
1/2 cup orange bell pepper, diced
1/2 cup yellow bell pepper, diced
1/2 cup red bell pepper, diced
2 teaspoons garlic, minced
1/2 tablespoon flour
1-1/2 cups Yukon potatoes, diced
2 cups of grilled or roasted corn kernels
2 tablespoons Biscayne Citrus Rub
2 teaspoons Kosher salt
3 cups chicken stock
3 cups heavy cream
Garnishes
Chopped cilantro
Sliced green onions
Lime juice
Instructions
In a large pot over medium heat, add the butter and ham. Once the ham starts to get a little color, add the onion, peppers and garlic, cooking until softened. Add the flour and stir until incorporated.
Next add the potatoes, corn, salt and Biscayne Citrus Rub, mixing well.
Add the three cups of chicken stock and stir. The mixture should start to thicken.
Stir in heavy cream.
Cover pot and set on low. Stir occasionally. Simmer for 12-15 minutes or until potatoes are tender.
Garnish with chopped cilantro, lime wedge and green onion.
Serve hot.
© 2023 World Spice Merchants https://www.worldspice.com