Blueberry Butterfly Pea Flower Muffins
Jump to recipe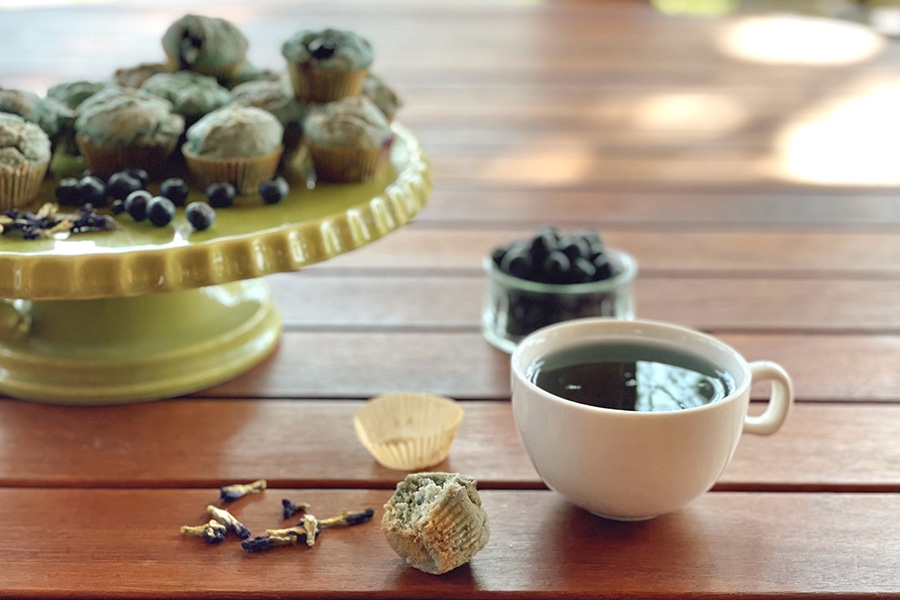 Who doesn't love a mini muffin? Sometimes we need the perfect little bite with our morning cup of coffee or a tasty snack to keep us going. These darling muffins are just the thing. They get their sky blue color from Butterfly Pea Flowers. We opted to make these gluten free for everyone's enjoyment. Little pops of sweet blueberries complement the muffins' excellent green tea-like flavor. They're really enjoyable and won't weigh you down like a traditional muffin would. Bake a batch and enjoy them throughout the week — they'll keep moist and delicious.
Ingredients
Wet
1/2 cup Butterfly Pea Flowers
1 teaspoon lemon zest
1/2 cup whole milk, warm
1 stick unsalted butter, melted
2 eggs
Dry
2-1/2 cup all-purpose gluten-free flour
2 teaspoons baking powder
1/4 teaspoon baking soda
1 cup white granulated sugar
1 teaspoon kosher salt
1 cup fresh blueberries
Instructions
Preheat your oven to 350 degrees.
In a blender add all of the wet ingredients and let them sit for ten minutes, then blend until smooth. The mixture will turn indigo from the butterfly pea and look slightly thick from from the melted butter. Set it aside.
In a large bowl add the gluten-free flour, baking powder, baking soda, sugar and kosher salt and give it a mix. Reserve a quarter cup of the dry mixture and toss the blueberries until coated, set them aside. This will absorb any excess moisture and prevent them from altering the batter's consistency. Meanwhile, in a large bowl, stir the wet ingredients into the dry ingredients using a spatula. The mixture will vary in blue hues and that's okay. Once the batter looks combined, sprinkle in the blueberries, then fold them in gently. Assemble your mini muffins tins with muffin liners. Using a scoop, fill the mini muffin tins 3/4 of the way full. Bake muffins for 10 minutes or until an inserted toothpick comes out clean.
© 2022 World Spice Merchants https://www.worldspice.com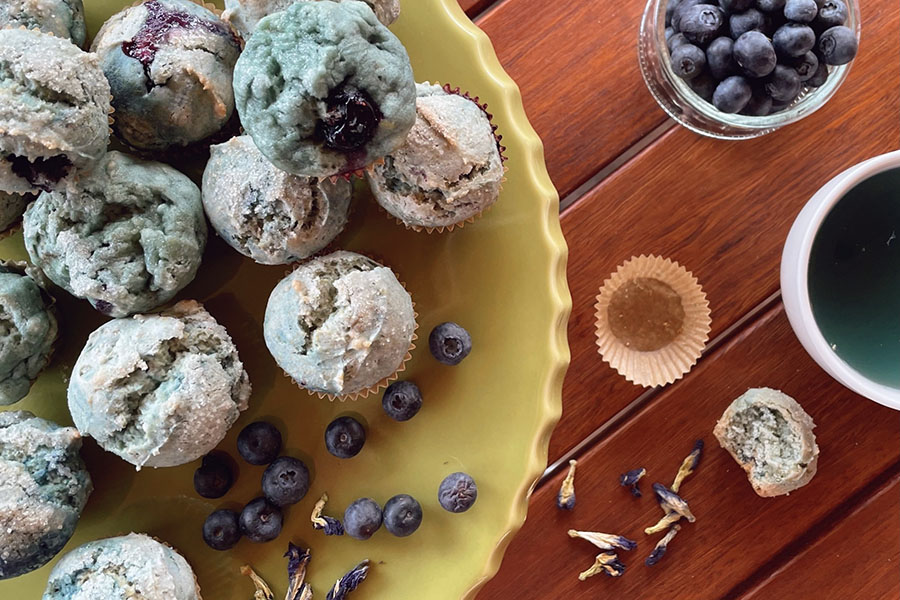 We love using Butterfly Pea Flower as an all natural food dye! Check out our Galaxy Pops and Butterfly Horchata recipes for more blue beauties.