Fajita Steak Salad
July 12, 2016
/
Serves 10-12
/
/
Print
/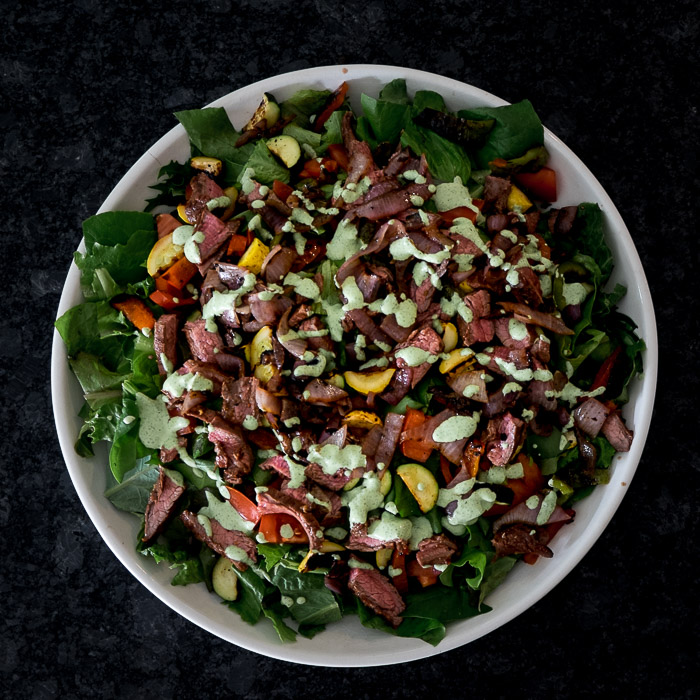 For a large summertime gathering, you want to find a dish to please the crowd with a minimum of fuss. This fajita steak salad offers pleasing grill fare for all without an excess of effort or mess. And it's delicious to boot. Hearty, but not too heavy, this salad is great served alongside grilled corn or cold margaritas for even more summer goodness.
Ingredients
For the flank steak
2 flank steaks, about 2 pounds each
1 cup olive oil
¼ cup worcestershire sauce
2/3 cup lime juice
6 cloves garlic, minced
¼ cup ground Fajita & Taco Spice
2 tablespoons brown sugar
For the vegetables
1 green bell pepper, cored and quartered
1 red bell pepper, cored and quartered
1 zucchini, quartered lengthwise
1 yellow squash, quartered lengthwise
½ purple onion, sliced into 2-3 rounds
½ cup reserved marinade
For the dressing:
1 cup loosely packed cilantro leaves
½ cup plain Greek yogurt or sour cream
1 small garlic clove garlic, minced
2 tablespoons lime juice
¼ teaspoon ground Tellicherry pepper
1/8 teaspoon kosher salt
¼ cup grapeseed oil
For the salad
3 heads romaine lettuce
cilantro leaves, for garnish
cojita or queso fresco, for garnish
Instructions
For the flank steak
In a large measuring cup, combine the oil, Worcestershire sauce, lime juice, garlic, Fajita & Taco Spice, and brown sugar.
Stir well to combine then remove ½ cup of the marinade and reserve for the vegetables.
Divide the remaining marinade into two 1 gallon plastic bags. Place one flank steak into each bag and allow to marinate in the refrigerator for 2 hours or longer. Allow the meat to come to room temperature before cooking.
When you are ready to cook, preheat a charcoal or gas grill to medium high heat. Cook the flank steaks 4-5 minutes per side for medium rare. Remove the meat from the grill and allow it to rest a few minutes before slicing.
For the vegetables
Combine the vegetables and reserved marinade in a gallon plastic bag and allow to marinate 2 hours or longer. Grill the vegetables alongside or after the steak, turning every minute or so to get a nice sear on all sides.
Transfer the vegetables to a cutting board and chop into bite sized pieces.
For the dressing
While the meat and vegetables are marinating, prepare the dressing.
In a blender, combine the cilantro, yogurt or sour cream, minced garlic, lime juice, salt and pepper. Blend well.
Add the grapeseed oil to the mixture and blend again.
For the salad
On a large platter, lay down a bed of romaine lettuce. Add the warm meat and vegetables, and drizzle on a generous portion of dressing. Garnish with cilantro and cheese (optional).
© 2023 World Spice Merchants https://www.worldspice.com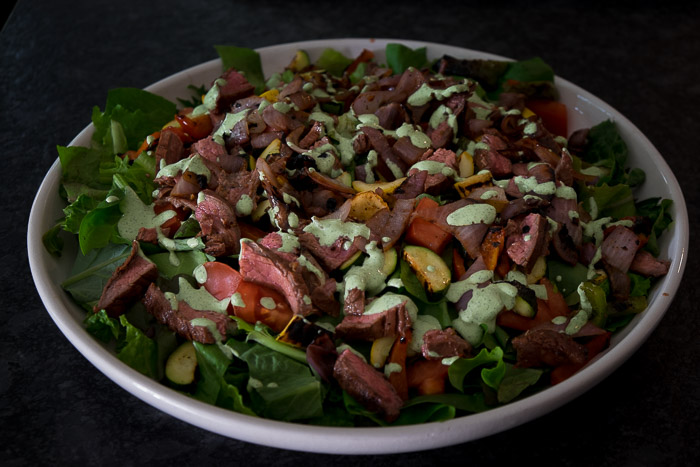 For another adventurous salad, check out our Cajun Cobb recipe.