Shrimp Fajitas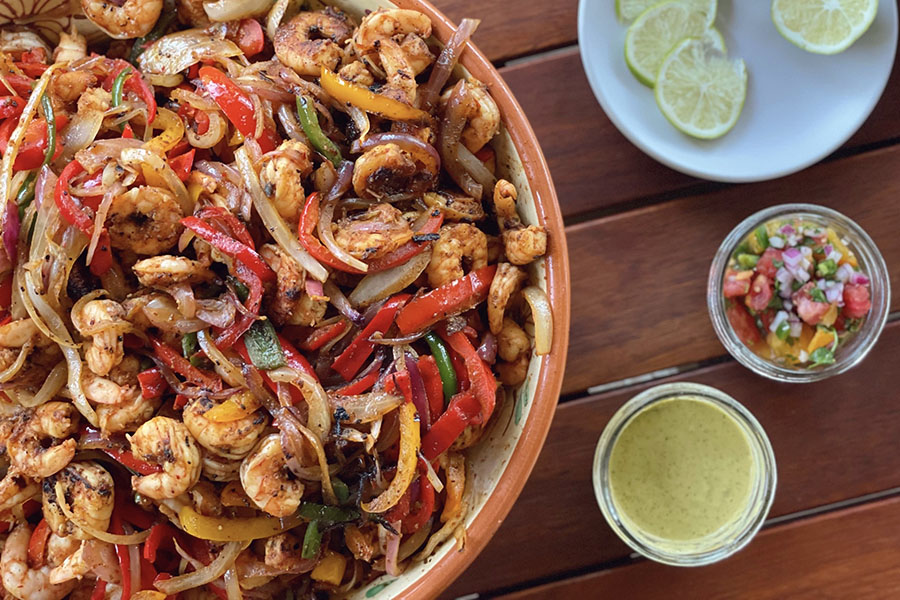 Few dishes make an entrance quite like fajitas. Their loud sizzle and wafting steam is mouth watering and a crowd favorite. For a quick and easy meal, we seasoned shrimp with some of our Fajita & Taco Spice. This blend has taco staples like cumin, paprika, onion, garlic and black pepper. Not surprisingly, this blend has consistently been one of our best sellers for decades. What makes our Fajita & Taco Spice special compared to the standard store-bought packet is that it is salt and preservative free. We grind it fresh, keeping the flavor and brightness of the tomato and guajillo chile.
Colorful bell pepper, sweet yellow onion, and juicy gulf shrimp make for fantastic fajitas. Now, treat yourself to taco night because you earned this!
Ingredients
3 tablespoons vegetable oil
1 large yellow onion, julienned
3 bell peppers (an assortment of colors), julienned
2 jalapenos, sliced, (optional)
2 lbs gulf shrimp, shelled and deveined
3 tablespoons Fajita & Taco Spice, ground
2 teaspoons kosher salt
1 tablespoon lime juice
Accompaniments
Lime wedges
Cilantro
Grilled corn tortillas
Instructions
In a large skillet over medium-high heat, add vegetable oil. When hot, add the onions, bell peppers, and jalapenos. Season with salt and half of the Fajita & Taco Spice. Saute, tossing often, until vegetables are 3/4 of the way done, about 4 minutes. Remove vegetable mixture from pan and set aside.
Next add more vegetable oil to the hot skillet and add the shrimp in an even layer. Sprinkle in the remaining fajita taco spice and salt, cooking 1 to 2 minutes or until shrimp turn pink. Before the shrimp are fully cooked add the cooked veggies and give everything a quick toss with the addition of the lime juice. Remove from heat and serve immediately.
Serve with warm corn tortillas, cilantro, and salsa of choice.
© 2023 World Spice Merchants https://www.worldspice.com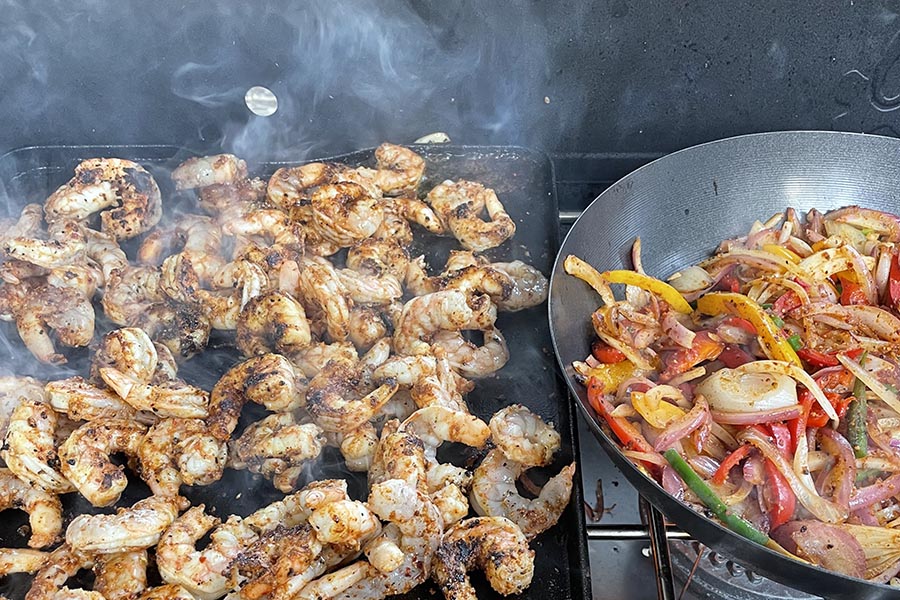 Looking for a good salsa to go with this meal? We made an awesome Aji Mirasol Salsa. Also, check out our Mexican Street Corn Salad for a great side dish. Cheers!