White Bean Chicken Chili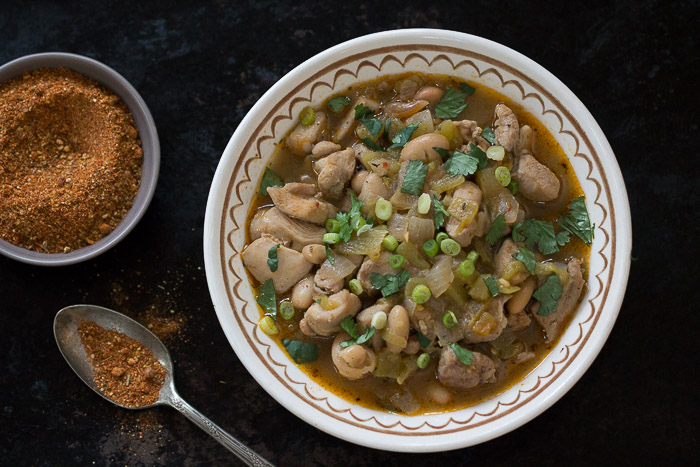 Mild and mellow with layers of spice, this go-to chicken chili recipe is sure to please. It's equally delicious whether you're cooking in a Dutch oven in the back country or entertaining friends at home. This version is not too hot, but packed with flavor from Adobo, Fajita & Taco Spice and Mexican oregano. This is our favorite version, but you can play with different flavor profiles by changing the Fajita & Taco Spice to another chili powder like Chipotle, Ancho or New Mexico. Adobo is the perfect spice base for all Latin soups and stews. A simple shortcut to flavor, it includes onion, garlic and cumin.
Ingredients
1 tablespoon vegetable oil
1 medium onion, diced
1 teaspoon adobo
1 1/2 lb boneless, skinless chicken thighs, cut into 1" pieces
2 teaspoons Fajita & Taco Spice or New Mexico Chili Powder
1 can white beans
8 oz diced green chiles
8 oz chicken broth
1 teaspoon Mexican oregano
Salt & freshly ground pepper to taste
Sliced green onions and cilantro for garnish]
Instructions
In a large Dutch oven over medium heat, combine the oil, onion and adobo. Sauté until the onions are translucent and the spices fragrant, about 5 minutes.
Add the chicken pieces and sprinkle with the fajita taco spice. Cook until the chicken pieces are just browned on the outside.
Add the remaining ingredients and bring to a boil. Lower heat immediately and simmer 20 minutes.
Adjust seasonings to taste.
Serve hot in deep bowls with a hearty slice of cornbread.
© 2022 World Spice Merchants https://www.worldspice.com