Tamale Soup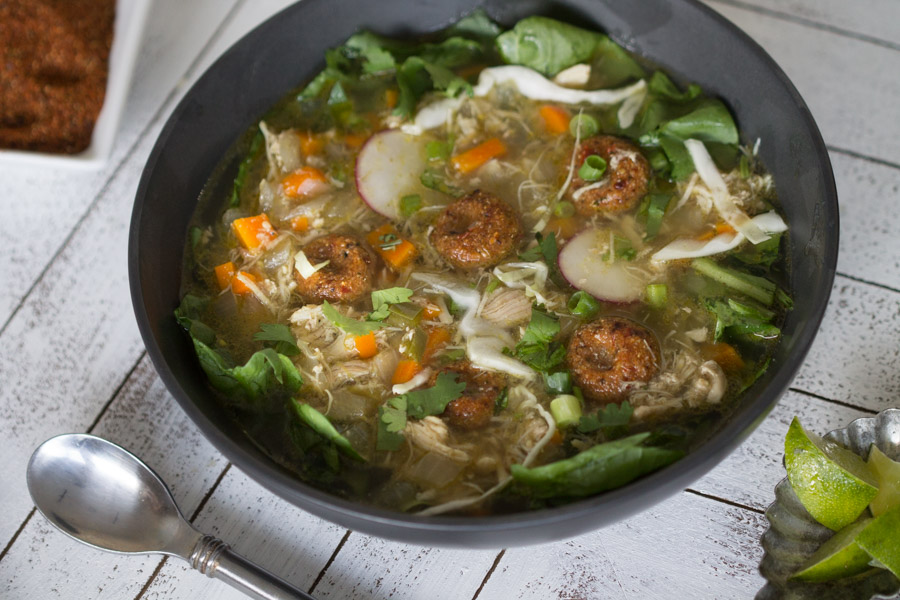 Who can resist a tamale dumpling? Not us! Inspired by Rick Bayless's Chipotle Beans with Masa "Gnocchi" we decided to give these little cuties a spice makeover and pop them into a belly warming chicken soup. We dubbed it Tamale Soup after the first bite because it has all the goodness of a tamale, but in soup form. It is a hearty crowd pleasing soup with bold flavors, perfect for game day or family get togethers. Slow cooked chicken thighs with plenty of our Adobo spice made a savory base for the little masa dumplings. We infused the dough with a healthy measure of our Chorizo Bomb for a big bite of flavor, and just like tamales, you can't take just one bite!
Ingredients
For the Soup
3 pounds boneless, skinless chicken thighs
8 cups chicken stock, divided
1 medium yellow onion, chopped, divided
4-6 tablespoons Adobo, divided
8 medium/large tomatillos, roasted and pureed or one 8oz. can whole tomatillos, pureed
1 tablespoon avocado oil
1 large carrot, medium dice
1 jalapeno, sliced
3 garlic cloves, minced
For the Dumplings
1 cup masa harina
1/4 teaspoon kosher salt
pinch of baking powder
2-4 tablespoons Chorizo Bomb
For Garnish
green onions, chopped
radishes, sliced
cilantro, chopped
cabbage, chopped
lime wedges
Instructions
For the Soup
Combine chicken thighs, 1 cup chicken stock, half the chopped onion and 2 tablespoons Adobo spice in a large crock pot. Cook on high 5-6 hours until chicken pulls apart easily with a fork.
While the chicken is cooking, prepare the dumplings and roast the tomatillos if you are using fresh ones.
Then, when you are ready to assemble the soup, add oil to the bottom of a large Dutch oven or soup pot over medium heat. Saute the onion, carrot, jalapeno and 2 tablespoons Adobo spice until the onions are soft and translucent, about 3-5 minutes. Add the garlic and saute until fragrant, about 1 minute more.
Transfer the chicken and tomatillos into the Dutch oven over the vegetables and add the remaining stock.
Simmer 10-15 minutes to combine the flavors, then add the dumplings and serve with garnishes.
For the Dumplings
In a large bowl, combine the masa harina, salt, baking powder and Chorizo Bomb. Use 2 tablespoons Chorizo Bomb for flavorful dumplings and 4 tablespoons for powerfully flavored dumplings...or somewhere in between.
Slowly add 1/2-1 cup hot tap water, mixing with a fork or your fingers until a soft dough is formed.
Roll into half inch balls and press a dimple into each to make a little belly button. This is necessary for dumplings to be cute 🙂
Bring a large pot of lightly salted water to a rolling boil. Working in batches, drop in the dumplings 6-8 at a time and boil until the dumplings float to the surface, about 3-4 minutes, and remove with a slotted spoon onto a wire rack.
These can be made a day ahead and stored in the refrigerator.
© 2022 World Spice Merchants https://www.worldspice.com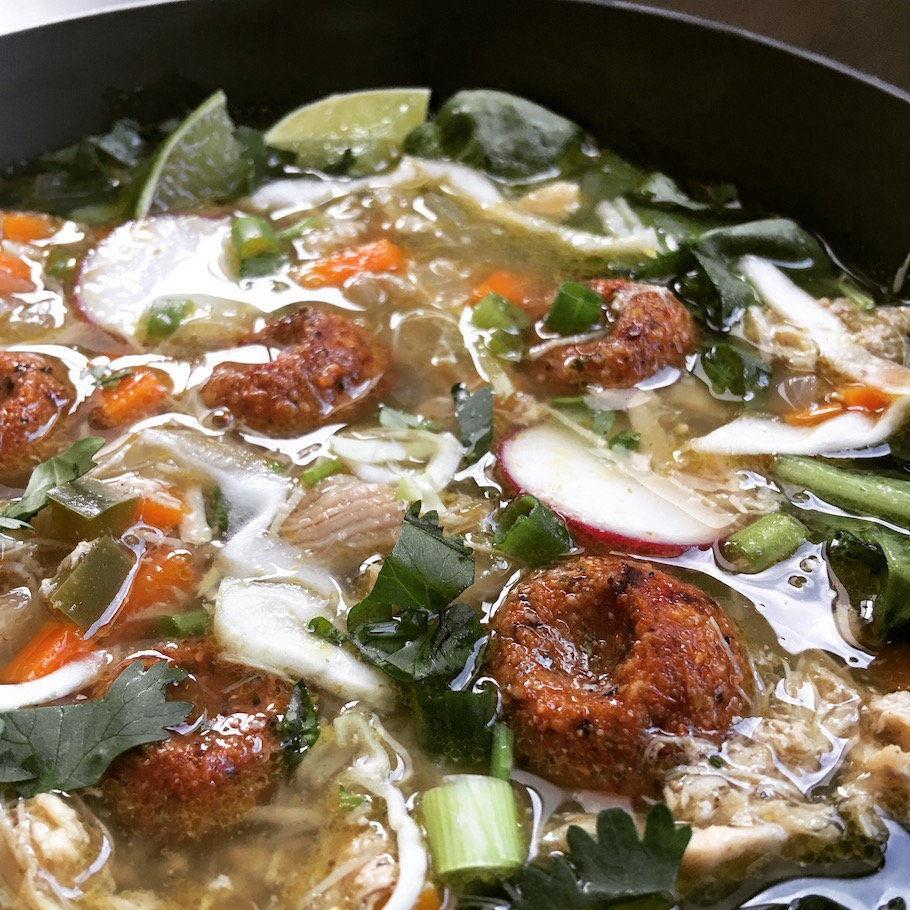 Play with your soup!
We can't wait to try all kinds of spice blends in these tamale dumplings! How about Sassy Steak Spice for tamale dumplings in beef stew or Mole Ole spice for tamale dumplings in black bean chili. So many options! Serve Tamale Soup over spinach or hearty greens for another layer of goodness.
Still need more soup in your life? Check out these recipes for Grains of Paradise Peanut Soup and Roasted Cauliflower Soup.